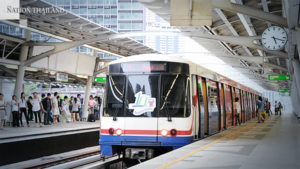 BTSC, operator of Bangkok's BTS skytrain, mulls filing B30bn BMA lawsuit
Suing for 30 billion baht in costs incurred from running the Green Line extensions
The operator of the BTS skytrain is considering suing the Bangkok Metropolitan Administration (BMA) to collect about 30 billion baht in costs incurred from running the Green Line extensions, the train company's chief operating officer said.
The deadline to pay the debt that has accumulated since the service began on the BMA-owned extensions expired on Wednesday.
Surapong Laoha-Unya, CEO of the Bangkok Mass Transit System Plc (BTSC), said the issue had come to "the final destination". The company's legal unit has been assigned to seek legal remedies against the BMA and its business arm Krungthep Thanakhom, Mr Surapong said.
His warning came after BTSC representatives submitted a letter to City Hall reminding it of the 30 billion in debt incurred from hiring the company to operate the Green Line extensions and related expenses since April 2017.
The debt covers 9.6 billion baht for operating the extension for more than three years and 20.7 billion baht for the purchase of train operation systems, Mr Surapong said.
He said the company has not received a response from the BMA and Krungthep Thanakhom after the deadline expired.
BTSC, a subsidiary of SET-listed BTS Group Holdings Plc, owns the Silom Line from National Stadium to the Taksin Bridge station, and the Sukhumvit route from Mor Chit to On Nut.
The extensions from the ends of those two lines are owned by the BMA, which hired BTSC through Krungthep Thanakhom to operate the service.
Bangkok Governor Aswin Kwanmuang said in February that City Hall had no money to service the debt.
The BMA had planned to raise the fare ceiling on the skytrain from 65 to 104 baht to raise funds for the payment, but the government halted the plan due to Covid-19's economic impact.
Mr Surapong said the BTSC will not hold passengers hostage in the dispute.
"The dispute will have no impact on services on the extensions. For the time being the company will continue to provide the Green Line services to avoid affecting passengers," he said.
Source: https://www.bangkokpost.com/business/2094079/btsc-mulls-filing-b30bn-bma-lawsuit