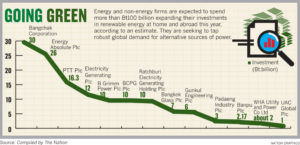 Big push for renewable energy as companies plan to invest more than Bt130 billion this year
ENERGY and non-energy firms are planning investments of more than Bt130 billion in renewable energy this year, both at home and abroad, confident of strong growth in global demand for alternative energy.
Bangchak Corporation Plc has set aside an investment budget of Bt30 billion. On April 5, 2018, the company announced the Bangchak Initiative and Innovation Centre (BiiC) would invest in an alternative energy start-up in the US and in green products firms Semtive Co Ltd and Bonumose Co Ltd. This is a part of its business expansion into alternative and green energy.
PTT Plc has also set aside an investment budget of up to Bt16.3 billion for alternative energy, which is a part of its efforts to drive sustainable business growth in the long-term.
Research by Kasikorn Research Centre estimates investments worth up to Bt150 billion in alternative energy in Thailand from 2016-18. The centre also forecasts investment in alternative energy in Thailand from 2019 to 2036 will be as high as Bt535 billion.
Solar power is the leader among investments in alternative energy, followed by wind, biomass and waste, the research said.
Thailand's Power Development Plan 2015 or PDP 2015 has set targets for the country to use alternative energy up to 19,684.40 megawatts by 2036. Currently, 8,271.24MW, or about 42 per cent of the target, has been achieved. This means the country needs more investment in alternative energy to produce 11,413.16MW from this year until 2036.
Meanwhile a report on global trends in renewable and alternative energy investment 2018, released by the UN Environment, the Frankfurt School-UNEP Collaborating Centre, and Bloomberg New Energy Finance, found that solar power last year attracted far more investment – $160.8 billion (about Bt5 trillion) – up 18 per cent from 2016, more than any other technology. It made up 57 per cent of last year's total investment in all renewables (excluding large hydro) of $279.8 billion (about Bt8.69 trillion), and it towered over new investment in coal and gas generation capacity, estimated at $103 billion (3.2 trillion).
The proportion of world electricity generated by wind, solar, biomass and waste-to-energy, geothermal, marine and small hydro in 2017 was 12.1 per cent (up from 5.2 per cent in 2007).
China leads with more than half of the world's new solar capacity; global solar investment jumped 18 per cent to $160.8 billion and cumulative renewable energy investment since 2004 was $2.9 trillion, according to the reports.
The report showed that solar energy in 2017 dominated global investment in new power generation like never before.
The world installed a record 98 gigawatts of new solar capacity, far more than the net additions of any other technology – renewable, fossil fuel or nuclear.
The driving power behind last year's surge in solar power was China, where an unprecedented boom saw some 53GW added – more than half the global total – with $86.5 billion invested, up 58 per cent.
There were also a sharp increase in investment in Australia (up 147 per cent to $8.5 billion), in Mexico (up 810 per cent to $6 billion), and in Sweden (up 127 per cent to $3.7 billion).
"The extraordinary surge in solar investment around the world shows how much can be achieved when we commit to growth without harming the environment," said head of UN Environment Erik Solheim.
"By investing in renewables, countries can power new communities, improving the lives and livelihoods of the people who live in them, and at the same time cleaning up the air they breathe."
"We have expanded our investment budget to Bt30 billion to invest in renewable energy with focus on Asia-Pacific countries. We aim to increase renewable energy capacity – solar roof, wind, and biomass – from 191 megawatts in 2017 to 391MW by the end of this year," BCPG Plc president Bundit Sapianchai said recently.
"We also will spend the budget for expanding new alternative energy plants at home and abroad between 2019 and 2022, with expected internal rate of return not lower than 15 per cent. This is the way to do our business for sustainable growth in the long term. We foresee strong demand for renewable energy both at home and abroad," Bundit added.
Harald Link, chairman of B Grimm and B Grimm Power Group, said the company's main focus in these countries was energy generation and distribution – both renewable energy and conventional fuels.
B Grimm's first hydropower project in Laos started operations last year, with nine others to follow soon. The group's operations service 150 big industrial customers in Vietnam. The company also has a solar energy distribution business in the Philippines, is building a distribution line in Cambodia and is working on a massive solar project in Malaysia.
"We believe that renewable energy will have strong demand and continued growth in both Thailand and globally," he said.
Source: http://www.nationmultimedia.com/detail/Corporate/30342746