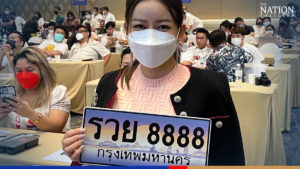 Bidder pays 18.5 million baht (US$ 549,583) for 'luckiest' car licence plate in Thailand
Thailand's first-ever auction of "special licence plates" saw stiff competition among bidders on Thursday, with a top price of 18.5 million baht (US$ 549,583) paid for the most auspicious plate.
The Department of Land Transport (DLT) has auctioned off the so-called vanity licence plates every year since 2003 to raise money for the Road Safety Fund, which has now accumulated over 4 billion baht.
The proceeds from Thursday's auction at Pullman Bangkok King Power Hotel added about 100 million baht to the fund.
This year was the first time that special-format licence plates approved earlier this year by the Cabinet joined the auction roster. A special format plate can contain up to seven consonants, vowels or tone marks, and can be followed by a number. The plate can contain a person's name or any words approved by the DLT.
"This year 273 people joined the auction for 84 licence plates, either in person at the hotel or via the real-time online auction at www.tabienrod.com," said director-general Jirut Wisaljit.
The hottest plate this year was "รวย 9999", which carries the word "rich" in Thai followed by the most auspicious combination of numerals. The starting price of 1.5 million baht (US$ 44,560) attracted furious competition from 33 bidders. The last one standing after no less than 424 bids was an internet user by the name of "Whatever", who won the plate with a bid of 18.56 million baht (US$ 551,366).
The second hottest plate was "รวย 8888", which carried the same starting price of 1.5 million baht and attracted 14 bidders. The battle for the plate lasted 320 bids, before Wassana Inthasaeng, the 37-year-old managing director of Revomed cosmetics company, won the plate with an offer of 11.1 million baht (US$ 329,750).
Wassana said the plate would be attached to her new Bentley to bring good fortune to herself and the cosmetics company.
"This year's auction has raised around 100 million baht from auction winners, who will have 30 days to pay for the plates they bought," said Jirut. "The money will be used to help victims of road accidents and to support safety campaigns under the Road Safety Fund."
However, the top bid of 18.56 million baht this year was only the third-highest winning bid in the 19 years of DLT licence-plate auctions.
The record bid is 28.1 million baht (US$ 834,772), paid for the plate "8กก 8888" while second-highest is the 25 million baht winning bid for "1กก 1111".
*Oanda 12.04.2022 US$ 1 = THB 33.5849
Source: https://www.nationthailand.com/in-focus/40014325