Best Western hotels to open in Thailand and Vietnam in 2021
BWH to grow by over 7,000 rooms
410-room Best Western Plus Carapace Hotel Khao Tao in Thailand and 1,008-room Best Western Premier Sapphire Ha Long in Vietnam
BWH Hotel Group is planning to rapidly grow its footprint in North America and APAC, according to exclusive findings from the TOPHOTELPROJECTS construction database.
BWH currently has no fewer than 35 projects with 7,085 rooms in its global development pipeline, our research reveals.
We take a deep dive into the database to find out more about these new hotels and which ones to keep an eye on.
A growth spurt for BWH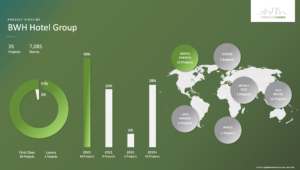 According to the database, 35 hotel projects are currently in BWH`s pipeline:
2020 was supposed to be a year of accelerated growth for BWH. 14 more projects are planned this year alone, adding 2,021 rooms to the company's inventory. However, delays to some of these schemes may be inevitable due to Covid19 and the resulting slowdown that many construction sites have experienced.
Even without counting potential spillover from 2020, nine hotels with 2,719 keys will launch in 2021. Two more will follow in 2022, followed by a further ten scheduled for 2023 and beyond.
BWH focuses growth on APAC and North America
North America is BWH's prime growth region with 15 planned hotels and 2,387 rooms, according to our data; APAC follows in second place with 12 properties – and a staggering 3,823 rooms. This comparatively high room count shows that typically BWH's properties in APAC will be significantly larger than those in North America.
Elsewhere, Europe will see five new BWH hotels, and the Middle East, South America and Africa will each get one new property.
With North America taking the lead in terms of regional growth, it's unsurprising that the US is BWH's fastest-growing national market. Here, 14 hotels with 2,309 rooms are in the pipeline. Vietnam and Thailand will both get five new properties with 2,407 and 1,271 rooms respectively, which means Vietnamese properties will be nearly twice the size of Thai ones on average.
BWH looks to attract modern travellers
BWH's Vib brand is geared towards the modern, ever-connected traveller. This brand's trendy hotels offer affordable accommodation in the heart of the world's top cities and provide everything guests need in this digital age, including gaming rooms and co-working spaces. After Vib's successful launch, BWH plans to add 11 new hotels with 1,734 rooms to the brand worldwide.
Best Western Premier and Best Western Plus will see similar levels of growth with ten and nine upcoming launches respectively. However, Best Western Premier's properties will be significantly larger than those of the other two brands.
Upcoming BWH launches you don't want to miss
The 1,008-room Best Western Premier Sapphire Ha Long in Vietnam is slated to open in Q1 2021 and is the largest hotel currently in BWH's pipeline, the database indicates. It will feature spacious rooms with private balconies overlooking the bay, outstanding business and leisure facilities, and amenities including a swimming pool, fitness centre, business centre, executive lounge and retail outlets. A diverse collection of dining and entertainment options will include an all-day restaurant, chic speciality restaurant, coffee shop, beer bar, cigar lounge and wine bar.
Due to launch in Q2 2021, meanwhile, the 410-room Best Western Plus Carapace Hotel Khao Tao in Thailand is nestled close to the beach just south of Hua Hin's town centre and only a 2.5-hour drive from Bangkok. A series of freeform lagoon pools, slides, waterfalls and a special children's water play zone, all surrounded by tropical palm trees, sun decks and cosy cabanas, will form the resort's centrepiece. Every room will feature modern amenities and a balcony overlooking these aquatic attractions, while spacious ground-floor units will offer terraces with direct access to the pools.
And finally, the 126-room Best Western Premier Hotel at St Mary's Court will open in Q2 2021, offering guests an exceptional experience while visiting Antigua. Its charming and elegant coastal design, easy access to must-see attractions, and impressive onsite amenities look set to provide all of the comforts and conveniences of home. Guests will doubtless enjoy its high-quality fitness centre, two outdoor pools, luxurious spa and full breakfast, while corporate travellers will be able to take advantage of the hotel's dedicated meeting space and business centre.
Source: https://tophotel.news/group-overview-bwh-to-grow-by-over-7000-rooms-infographic/