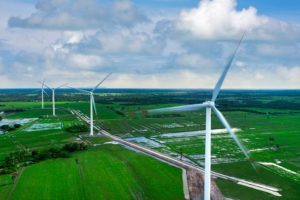 BCPG slated to sell power to Vietnam from ASEAN's largest wind farm in Laos
Renewables unit of Bangchak Corporation said to advance plan for 600MW wind project in neighbouring Laos
SEE ALSO: BCPG Eager To Build Asean's Largest Wind Farm In Southern Laos
BCPG, the renewables unit of Thai oil firm Bangchak Corporation, is slated to sell electricity to the power thirsty economy of Vietnam from a 600MW wind project in neighbouring Laos that's expected to be the largest in the Association of Southeast Asian Nations (ASEAN).
ASEAN excludes the world's biggest wind power market, China, where larger wind complexes are being developed.
BCPG is poised to sign a power purchase agreement (PPA) with state-energy company Electricity Vietnam (EVN) in October, according to the Bangkok Post newspaper.
Construction would start after the signing of the PPA, the Thai company's chief executive Bundit Sapianchai is quoted as saying, with operations beginning in 2023.
BCPG is investing in the project through its subsidiary, Impact Energy Asia Development Co., with a 45% ownership, according to the newspaper. The other 55% is said to be held by Impact Electrons Siam.
BCPG on its website confirms the project in Southern Laos as under development.
While Recharge couldn't immediately confirm Sapianchai's comments, the project seems to be the same one Impact Electrons Siam first mentioned in a 2016 press statement, in which it also said the project would be completed in 2023, adding that Danish wind manufacturer Vestas would provide the turbines.
Vestas today told Recharge it doesn't comment on any projects before they are firm and unconditional.
BCPG will spend $840m on the project now called Swan in southern Laos, relatively close to the Thai city of Ubon Ratchathani, the newspaper said.
The fast-growing economy of Vietnam currently is one of Asia's hottest wind power markets itself.
Bundit according to the newspaper said that BCPG is also in the process of purchasing a solar farm, currently under construction, at cost estimated at between $100-200m, and a capacity of up to 200MW.
Source: https://www.rechargenews.com/wind/thai-oil-firm-slated-to-sell-power-to-vietnam-from-asean-s-largest-wind-farm/2-1-857765