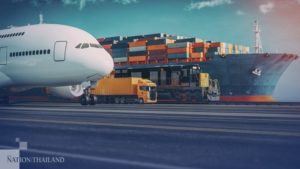 BBS Joint Venture set to sign contract after winning bid for Rayong's U-Tapao and airport city
By THE NATION
The Cabinet will soon sign a contract with BBS Joint Venture, which won the bid for the construction of U-Tapao Airport and the Eastern Airport City, though the Navy will decide who builds the airport's runways.
BBS proposed return on investment of at least Bt305 billion over 50 years of operation, deputy government spokesperson, Ratchada Thanadirek, said.
Once the authorities overseeing the East Economic Corridor have approved BBS as the contract winner, the contract will reportedly be signed on June 19.
The Cabinet, meanwhile, has given the Royal Thai Navy the freedom to select a private contractor for building U-Tapao's runways after an Environmental Impact Assessment (EIA) has been conducted. This contract will be signed once the EIA has been approved.
The Cabinet has also set aside a budget of Bt889.2 million for investment in related projects such as aviation meteorology and electricity.
The development of the 6,500-rai U-Tapao and Eastern Airport City comprises six projects, namely a third airport terminal, commercial gateway, air cargo, maintenance, repair and overhaul section, free trade zone and training centre for aeronautical personnel.
The development is expected to be completed by 2023 and will create 15,600 new jobs.
Source: https://www.nationthailand.com/news/30388963