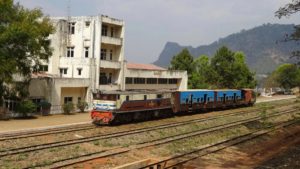 Bangladesh-Myanmar railway construction project goes slow, delay to timetabled June 2022 completion
The Bangladesh-Myanmar railway construction project faces multiple setbacks, including delay in relocation of utility lines, acquiring lands and COVID-19 situation.
Delay in the accomplishment of the project, which is timetabled to be completed by June 2022, may raise the project cost significantly.
If the COVID-19 situation is prolonged, the implementation of the fast track project may be delayed further, feared the project implementation authorities.
The issues were discussed at an online meeting presided over by railways ministry secretary Selim Reza on July 22.
The project steering committee at the meeting also assessed the overall progress of the project.
The Construction of Single Line Dual Gauge Track on Dohazari-Ramu-Cox's Bazar and Ramu-Gundum (Myanmar) project, which began in July 2010, aims at connecting with trans-Asian railway corridor and to bring Cox's Bazar under the rail network.
Asian Development Bank and the government of Bangladesh are jointly funding the estimated project cost of Tk 18,034.47 crore.
Till June this year the physical and the financial progresses of the project are 40 per cent and around 27 per cent respectively.
And the overall progress stands at 26.98 per cent.
Under the project, at first a 100.831 kilometre railway line will be constructed on Dohazari-Ramu-Cox's Bazar section and then a 28.752 kilometre track will be constructed on Ramu-Gundum (Myanmar) section.
The steering committee meeting observed that after 10 years the railway construction works were yet to be started.
Project officers said that at many areas under the project alignment there were utility lines (towers and poles) of Power Grid Company of Bangladesh, Bangladesh Power Development Board and Bangladesh Rural Electrification Board.
They also said that they had already paid money to the authorities concerned as per their demand notes to relocate the utility lines, but relocation works had not completed yet.
Under the project area, there were 21.035 acres of lands under PDB, Roads and Highways Department and Bangladesh Agricultural Development Corporation.
Still 10 acres of land owned by BADC is yet to be handed over to the project office, they lamented.
In cases of land acquisition and providing compensation, compensation payment is still 59 per cent in Chokoria, 73 per cent in Ramu, 75 per cent in Cox's Bazar and 91 per cent in Chandnaish upazila.
A project document expressed fear that if the land could not be handed over to the contractors in time, there were possibilities of significant increase in project cost.
Project director Mofizur Rahman told New Age on July 22 that after the general holidays announced by the government in April due to COVID-19 the project works were suspended from mid-May.
'It is not possible to work with regular speed during the epidemic even after maintaining health regulations,' Mofizur said.
He also said they would focus on utility lines relocation works after the lockdown and they had already talked to the agriculture ministry about handing over the 10 acres of land.
'We hope that major works will be completed in time, while some minor works maybe need more time,' the project director said.
However, if the epidemic stays longer then it will take more time, he said.
The project cost will not be increased though, he added.
According to the project office, till June the construction of 38 out of 147 culverts have been completed, and constructions of 36 out of 39 bridges, 45 culverts, embankment stretching 90 kilometre area are going on.
Source: https://www.newagebd.net/article/112937/bd-myanmar-railway-project-goes-slow