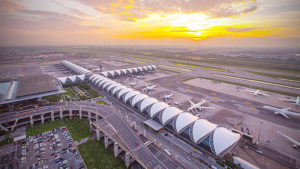 Bangkok's Suvarnabhumi airport second-phase expansion 60 per cent ready, will be opened in November 2020
By THE NATION
The second-phase expansion of Suvarnabhumi Airport is 60 per cent complete and will be opened in November 2020, a senior Airports of Thailand (AOT) official said.
AOT senior executive vice president Anake Teeraviwatchai said construction of the structure has been finished. Work related to architecture, interior decoration and installation of the inside systems were still to be done. "The systems to be installed are explosive detection system, baggage handling system, and automate passenger mover (APM)," he added.
According to the AOT report, construction of the first two systems will be finished within April. Meanwhile, APM is installing the railway system, and this was expected to be finished this month.
Also, there will be six APM trains providing shuttle service between the current passenger terminal and the new satellite terminal. "The first train was expected to arrive in Thailand in February and March," Anake said.
With 28 bays at the satellite terminal, the number of visitors the airport can handle will increase from 45 million to 60 million per year.
Source: https://www.nationthailand.com/news/30380137