Bangkok's BTS Green Line extension and BMA Gold Line officially opened on 16 Dec 2020
By The Nation
Photos by Korbphuk Phromrekha
The BTS Green Line extension, from Phaholyothin 59 to Khu Khot station, and Bangkok Metropolitan Administration (BMA)'s Gold Line from Krung Thonburi to Klong San stations were officially launched on Wednesday.
At the launching ceremony, Prime Minister Prayut Chan-o-cha said the Green Line extension was in line with his government's target to make travel more convenient as well as to reduce the air pollution and traffic congestion.
"We hope people will enjoy using these services," he said.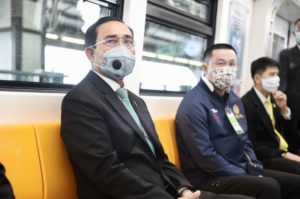 Meanwhile, Bangkok Governor Aswin Kwanmuang said the BTS Green Line has been at the heart of Bangkok's mass transit system for more than 20 years, since it was developed in 1999.
"This line connects with the Airport Rail Link, MRT Blue Line and BMA Gold Line, and is expected to accommodate more than 1.5 million people daily," he said.
The Green Line will connect with the MRT Pink Line from Khae Rai to Minburi and the MRT Yellow Line from Lat Phrao to Samrong by 2022.
He added that rides on the BTS Green Line extension, from Phaholyothin 59 to Khu Khot stations, will be free from Wednesday 1pm to New Year's Day.
"The BMA Gold Line will also offer free rides from Wednesday 1pm to January 15, after which fares will be set at Bt15," he added.
The BTS Green Line extension covers seven stations, namely Phaholyothin 59, Sai Yud, Saphan Mai, Bhumibol Adulyadej Hospital, Royal Thai Air Force Museum, Yaek Kor Por Aor and Khu Khot.
The BMA Gold Line covers three stations, namely Krung Thonburi, Charoen Nakhon and Khlong San.
Source: https://www.nationthailand.com/news/30399685