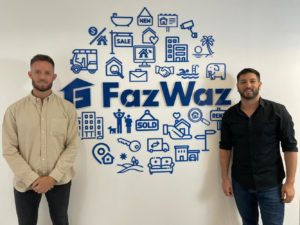 Bangkok Post joins with Fazwaz to power property listings platform
Buying a dream home can be a trying exercise for any novice, given the lack of pricing transparency, complicated settlement procedures and a quickly evolving Thai property market.
Property technology firm FazWaz aims to change all this by reducing friction for buyers through the use of machine learning and an automated valuation system touted as the first in the Bangkok market.
The Bangkok Post joins hands with FazWaz to feature the country's largest selection of unique and verified direct properties for sale and rent, all on a single platform.
Consumers can browse tens of thousands of listings from across the country through property.bangkokpost.com and property.posttoday.com, using map-based searches and smart filters to quickly identify the best prospects.
Live 3D technology allows buyers to browse up to 70% of the major projects within central Bangkok virtually from their mobile or desktop. FazWaz also has teams of registered agents to help buyers arrange in-person visits, negotiate prices and contracts, and complete the sale.
For sellers, the platform boasts a global audience of nearly half a million potential buyers each month. FazWaz also has an automated valuation model to help sellers price their properties based on actual market conditions.
"FazWaz is delighted to become the exclusive property partner with one of Thailand's leading and most trusted brands that embodies our same core values: providing verified and reliable content and being the No.1 source for their readers," said Paul Trayman, FazWaz chief operating officer.
"This partnership reconfirms FazWaz as a leader in the proptech space and through this collaboration it offers our consumers access to a wider audience of homebuyers and renters, as well as access to more amazing homes across the country."
Soonruth Bunyamanee, editor of the Bangkok Post, said he believes the partnership with FazWaz will bring significant value to readers seeking to buy, sell or rent properties.
"We see the FazWaz platform as helping to address some of the complexities faced by both buyers and sellers," he said.
"It is basically bringing the real estate industry into the 21st century."
Source: https://www.bangkokpost.com/business/2132427/bangkok-post-joins-with-fazwaz-to-power-property-listings-platform