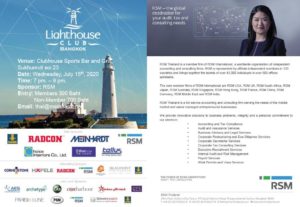 Bangkok Lighthouse Networking Evening – 15 July 2020 – SPONSOR RSM
Our first post-Covid19 event will be the networking at Clubhouse bar, we will be practicing a safe social distancing approach to this event. Our sponsor "RSM" will even offer you all face masks!
Could you please kindly confirm your attendance so we can monitor numbers and prepare for you all
As the Clubhouse is spread out on the 2nd floor we will be practicing more groups in clusters and sitting down will be advised to reduce social interaction, if you are intending to come to this event please register and let us know
We need all members to show their support for the sponsors and we expect to see many of you at this event.
Looking forward to seeing all of you at this event.
Lighthouse Committee
Bangkok Lighthouse Networking Evening – 15 July 2020 – SPONSOR RSM