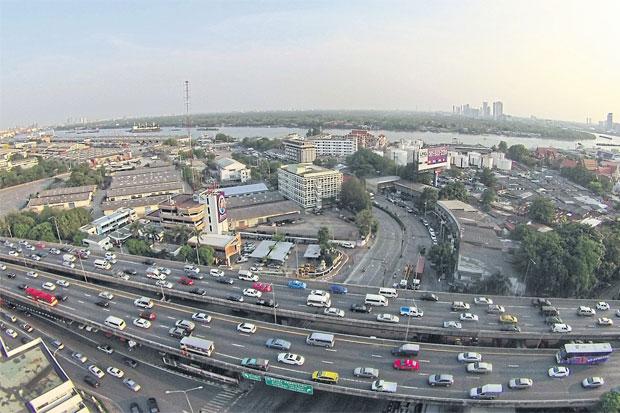 An aerial view of the Bangkok Expressway in Bangkok's Klong Toey district. Bangkok Expressway Plc, operator of the network, is merging with subway operator Bangkok Metro Plc to form a new company. SEKSAN ROJJANAMETAKUN
The new construction company to be formed by the merger of SET-listed Bangkok Expressway Plc (BECL) and SET-listed Bangkok Metro Plc (BMCL) will be named Bangkok Expressway and Metro Plc (BEM).
BEM is on track to pass through the legislative process and start trading on the SET late this year or early next, Bangkok Expressway managing director Payao Marittanaporn said.
The two companies are subsidiaries of SET-listed Ch. Karnchang Plc (CK) — Bangkok Expressway operates the expressway system and Bangkok Metro the subway.
The parent company announced the merger early this year and had expected it to be finished by midyear.
However, the complicated legislative process has delayed the merger for about six months until year-end.
Since they are construction companies that bid for government projects, making the government a party to their contracts, they need cabinet approval for the merger.
"We expect the cabinet will give us a green light in October, then we'll continue the process to list the new company on the SET," Mrs Payao said.
"We expect to see an initial public offering (IPO) early next year."
However, she declined to give an exact IPO price, saying the assets of the two companies must be formally evaluated first.
But Mrs Payao said present figures showed that after the merger, BEM would have total assets of 74.7 billion baht, in accordance with the value of the two companies as of June.
That figure is derived from 56.1 billion baht in assets for Bangkok Expressway and 18.6 billion for Bangkok Metro.
"The merger will give us greater financial capability to pursue more projects, leading to higher profits next year," Mrs Payao said.
She said the new company would still pursue mostly government railway projects, which were expected to open for bidding soon.
However, BEM will also diversify to bid for other state infrastructure projects.
"Right now we're looking at several subway routes — the Pink, Yellow and Purple lines," Mrs Payao added.
CK shares closed yesterday on the SET at 27 baht, unchanged, in trade worth 279 million baht.
BECL shares closed at 35.75 baht, unchanged, in trade worth 42.4 million baht.
BMCL shares closed at 1.78 baht, down two satang, in trade worth 127 million baht.
Source: http://www.bangkokpost.com/business/news/712076/bangkok-expressway-metro-merger-named