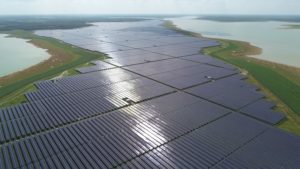 B.Grimm Power confident 2019 revenue will grow by 15-20%
19 October 2019
SET-listed B.Grimm Power is confident 2019 revenue will grow by 15-20% after commencing operations at two solar farms totalling 677 megawatts in Vietnam.
Nopadej Karnasuta, the chief financial officer, said the two units of Dau Tieng 1 and Dau Tieng 2 have combined power generation of 420MW.
B.Grimm started operating the two units in early September.
The project is a joint venture of B.Grimm and Dau Tieng Tay Ninh Energy Joint Stock in Tay Ninh province.
The second solar farm started operations in early June with a capacity of 257MW. Phu Yen TTP Joint Stock is the operator for the project.
Both projects have 20-year contracts to supply Vietnam Electricity Group.
"The two solar farms in Vietnam make B.Grimm one of largest solar operators in Asia," Mr Nopadej said.
Revenue will also increase from the 15MW Nam Che hydropower plant in Xaisomboun province, Laos. The project started operating in June, selling output through the state-run Electricity Generating Authority of Thailand.
Mr Nopadej said additional 2019 revenue will be derived by higher efficiency in gas-fired small power projects, as gas prices has fallen from last year.
B.Grimm is in negotiations with a Vietnamese company to acquire a development licence for a solar farm for the Dau Tieng 3 farm with a capacity of 60MW in the first phase. This project will double power generation to 120MW in the coming years.
"B.Grimm will soon conclude the further acquisition plan in Vietnam in early 2020," Mr Nopadej said. "We are on course to grow our power portfolio by continuing to invest in projects both domestically and abroad, raising capacity to 5,000MW in 2022 from 3,245MW at 56 projects."
B.Grimm's power projects are 75% domestic and 25% foreign by plant numbers.
Domestically, the company is pursuing new power generation investments in accordance with the national power development plan for 2018-37.
BGRIM shares closed yesterday on the Stock Exchange of Thailand at 49.75 baht, down 1.50 baht, in trade worth 1.49 billion baht.
Source: https://www.bangkokpost.com/business/1775429/b-grimm-power-upbeat-on-growth