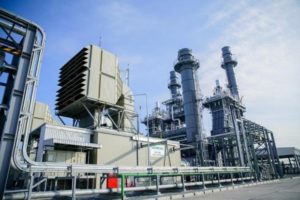 B.Grimm Power aiming for second LNG licence for power plant
SET-listed B.Grimm Power (BGRIM) will ask the government to grant it a second licence to import liquefied natural gas (LNG) as it is developing a new gas-fired power plant.
In May, the firm was approved by the Energy Regulatory Commission to import 650,000 tonnes of LNG a year to feed its existing five gas-fired power plants.
"If we have new gas-fired power plants, we have a right to ask for a new shipping licence to ship in additional gas volume," said Preeyanart Soontornwata, B.Grimm Power's president.
Her company recently announced a plan to establish its sixth power plant, with hybrid power generation based on both LNG and solar energy, supplying electricity to the Eastern Airport City at U-tapao airport in Rayong province.
The facility is designed to use gas as fuel to produce 80 megawatts of electricity.
B.Grimm Power is also designing an action plan for its new, wholly owned LNG unit established in May for LNG shipping business.
The plan includes a business deal with a Vietnamese partner on LNG and new power plant projects.
In November of last year, B.Grimm Power signed a memorandum of understanding with Petrovietnam to jointly run LNG projects and build new LNG-powered plants to produce 3,000MW of electricity.
Ms Preeyanart said the Vietnamese government is considering projects for its long-term power development plan.
In Thailand, the five B.Grimm-owned power plants under construction have a combined capacity of 700MW. The company expects to start importing LNG as early as 2022.
All of the company's plants are located in the Eastern Economic Corridor (EEC), which spans 30,000 rai in Chon Buri, Rayong and Chachoengsao provinces. The government wants to develop the EEC into a hub of high-tech industries, with logistics and aviation as one of its targeted businesses.
Under the company's plan, 150MW produced by the five plants will supply the state grid, while 550MW will be sold to industrial operators.
Policymakers opened the LNG market in 2015, following a four-year monopoly under national oil and gas firm PTT. State-run Electricity Generating Authority of Thailand was the first to receive a shipping licence last year.
The three other licence holders are Ratch Group, Gulf Energy Development and B.Grimm Power.
Source: https://www.bangkokpost.com/business/1942480/b-grimm-aiming-for-second-lng-licence-for-power-plant