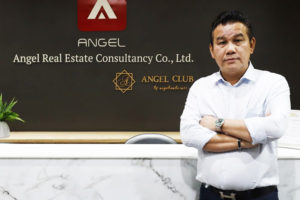 Angel Real Estate Consultancy diversifies into industrial estates in Thailand's eastern provinces with B3bn land sales target
A sharp contraction in the condo market has led Angel Real Estate Consultancy to diversify into industrial estates in eastern provinces, aiming to close land sales worth 3 billion baht by year-end.
Co-founder and president Simon Lee said the company is dealing with industrial estate developers to sell plots in their industrial parks to Taiwanese manufacturers that had factories in China and want to move elsewhere.
"The US-China trade war has accelerated both Chinese and overseas investors in the manufacturing industry in China to relocate to other countries," Mr Lee said.
Last week, Angel held an online conference with the Industrial Technology Research Institute (ITRI) in Taiwan and international consulting firm KPMG to initiate matchmaking with Thai industrial developers and Taiwanese manufacturers.
As an agent, Angel will look for lands or properties in industrial parks that have specifications that align with a manufacturer's requirements.
While KPMG is responsible for due diligence, the ITRI will act as a consultant for Taiwanese manufacturers.
Taiwanese manufacturers interested in relocating operations to Thailand are in the chemical, electrical and automotive industries, while Thai industrial estate developers include WHA, Amata and Thai Factory Development.
By the end of 2020, Angel expects to close sales of lands sized at 1,000 rai or more in industrial parks being sold to three factories, with land prices of 3 million baht per rai.
In addition to the land sales, Mr Lee said these deals can draw an investment of over 10 billion baht for factory construction, machine purchases and others related activities.
Angel plans to build dormitories for staff working at these three factories, housing 1,000-3,000 people per factory.
"We will expand industrial matchmaking in Beijing next year," Mr Lee said. "Thailand should offer better incentives to draw overseas investors, otherwise we will lose out to Vietnam."
The minimum labour wage in Vietnam is 150-170 baht a day, just half of Thailand's.
Mr Lee said Chinese buyers slowed their property purchases globally as the pandemic decreased rental yields.
In the first eight months this year, Angel's property sales shrank 70% year-on-year to 3 billion baht.
The agent expects to record a total of 7 billion baht by the end of 2020, down from 12 billion baht in 2019 and 28 billion baht in 2018.
"Our Thai property sales to Chinese buyers were weak in the first quarter, a result of the trade war last year," Mr Lee said. "The low sales have been aggravated by the pandemic."
As Thailand has been successful in controlling the pandemic, many potential buyers, particularly those looking for retirement and second homes, are returning here, he said.
"The Chinese want to buy condo units in Bangkok," Mr Lee said. "They are looking for a larger size, at least 150 square metres, as they plan to relocate their families if there is a pandemic in the future."
Other active buyers are family funds buying in bulk at a discounted price. They seek 1-5 floors and ask for a discount of 30-50%.
Two months ago, Angel sold 27 units of 100 sq m each on nine floors at a riverside condo project with a combined sales value of 900 million baht to a family fund.
"When the market returns, this investor will resell units within their network," Mr Lee said.
Source: https://www.bangkokpost.com/business/1993887/angel-diversifies-eastward-with-b3bn-land-sales-target