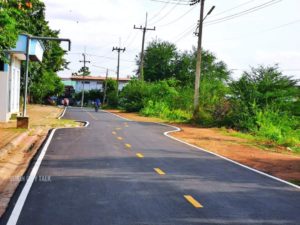 Amazing Thailand's Wiggly road in Surin amuses netizens
Thai netizens were having a field day after pictures of a wiggly road were posted online.
A picture on "Roadside Politics" on Facebook showed the road that should have been straight but has a kink in it outside a building.
The site said it was in Muang Surin in Thailand's north east. They asked "How did that happen?'
People liked a joke by one poster who posted a sign of a car skidding.
The Kuykhia site gave further details suggesting it was resurfacing work contracted out by the Jom Phra sub-district utilising a budget of more than 2.4 million baht.
After some "e-bidding" the contractors applied some new asphalt so the road was just like before….only better!
Apparently it is in the Tessaban 7 and 9 area by a fitness park.
Netizens used the opportunity to post other crazy pictures of idiocy in repairing the Thai roads amid much sharing and general merriment.
Source: Thaivisa