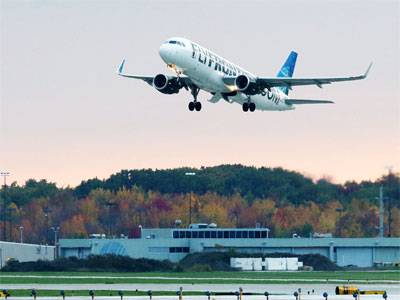 BANGKOK: Airports of Thailand PCL , the country's largestairport operator, said on Thursday that its board had approved a 61.6 billion baht ($1.9 billion) budget to expand Bangkok's Suvarnabhumi international airport.
The company plans to tap its cash holdings of 44 billion baht and earnings to finance the expansion, Chairman Prasong Poontaneat told reporters after a board meeting.
The budget for the expansion, which involves building a new 19-billion baht runway, 29-billion baht multi-function passenger terminal and other facilities, was cut from 85.5 billion baht after the project came under review by the military government.
After seizing power in May, the junta has scrutinised state enterprises and large projects worth at least 1 billion baht to ensure transparency and to take control of state companies.
Prasong said the company's management will study details of the expansion plan in a board meeting on Oct. 28 before seeking an approval from the transport minister and the cabinet.
The $4 billion Suvarnabhumi airport, which opened in 2006 on what was once flooded marshland known as "cobra swamp", has the capacity to serve about 45 million passengers a year but actually handled around 50 million last year. The planned multi-function terminal will boost capacity of the overcrowded airport to 65 million when completed in 2017, another company official said.
The state-controlled firm, which operates six main airports in Thailand, expects revenue to rise 5 per cent for its current financial year ending September 2015, helped by the government's tourism promotion measures, Prasong said.
This compares with a drop of less than 5 per cent a year earlier when the tourism sector was severely hit by months of domestic political unrest, the airport operator said.
For its financial year ended September 2014, the number of foreign passengers fell 5.66 per cent, but the number of domestic passengers rose 14.4 per cent, leading to a total traffic rise of 1.67 per cent.
The number of passengers at Don Muang, another key airport in Bangkok, is expected to rise 30 per cent in 2015 when the construction of a new passenger terminal is completed in August next year. It carried 19.35 million passengers in the 2013/14 financial year.
Source: http://articles.economictimes.indiatimes.com/2014-10-16/news/55107315_1_baht-airport-operator-don-muang