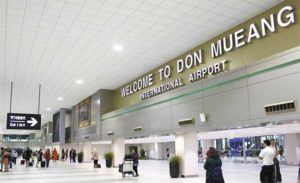 Airports of Thailand considers bidding for Bangkok's Don Mueang's Bt34-bn third phase
Airport's third phase will include Terminal 3, expanding parking lots, connecting with the Red Line Skytrain, hotel and automated people moving system
By The Nation
Nitinai Sirismatthakarn, president of the Airports of Thailand (AOT), said the third phase of the Don Mueang Airport is being considered, though the agency has to consult with the State Enterprise Policy Office (SEPO) first.
He said if the two agree with the plan, then AOT will submit the plan to the Transport Ministry before it is forwarded to the Cabinet for approval.
He said the airport's third phase will cost Bt34.3 billion and will include the building of Terminal 3, expanding the parking lot and adjacent buildings to connect with the Red Line Skytrain, hotel and the automated people moving system.
Nitinai added that the AOT is almost ready to start a bidding for this public-private partnership investment project.
The Don Mueang International Airport currently welcomes 40 million passengers per year, but its capacity is only for 30 million, which causes congestion during rush hour.
The AOT will initially work on solving urgent problems, such as increasing the areas for Visa on Arrival and immigration channels, adding more check-in counters, expanding the waiting area at the bus gate and will later consider building a terminal to accommodate 1,200 to 3,000 package tourists per hour, with the aim of having it completed by 2020.
For the construction of Terminal 3, the domestic terminal and airplane parking No 6 will have to be demolished. The AOT will also renovate Terminal 1 to accommodate as many as 22 million domestic passengers per year. Warehouses Nos 1 and 2 will also be renovated, the traffic system and aircraft parking lot expanded and the utility system improved.
Source: https://www.nationthailand.com/business/30376339