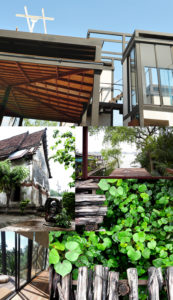 A sneak peek at Bangkok's remarkable 'Tree House' hotel
An innovative hotelier and self-professed tree hugger is on a mission to bring civilization to the green wilds of Bang Ka Chao
It's easy to forget how close Bangkok's Bangna district is to the Chao Phraya River, with only two kilometers separating BITEC (the Bangkok International Trade & Exhibition Centre) and the muddy river waters.
At the western end of Samphawut Road, next to the Bang Na Nok temple is a small pier, from which boats ferry pedestrians and motorcyclists across the river to Bang Ka Chao.
Popularly known as the "Green Lung of Bangkok," this almost-island (it's connected to the mainland by a narrow isthmus), is lapped by the Chao Phraya river on three sides.
Much as they have always done, the residents of Bang Ka Chao live in quiet, semi-rural solitude, making a living from farming and ferrying people across the river.
In recent years, a number of homestays have sprung up that offer weary Bangkokians a weekend respite from the hectic city. These are mostly simple affairs: basic wooden A-frames built on former farming land, though the better ones come equipped with modern conveniences such as air-conditioning and flat screen TVs.
However, there have never been any true hotels on Bang Ka Chao –- until now, that is.
"The neighbors always ask me, 'What is it?'," says Jirayu Tulyanond, the 35-year-old creator and owner of the Bangkok Tree House, one of the city's most innovative new lodgings that's set to open in November.
The Bangkok Treehouse is a 12-suite property filled with mangrove palms and lamphu trees, which attract fireflies. Guests will arrive via a dedicated shuttle boat across the Chao Phraya, disembarking onto a floating pontoon overlooked by the hotel's gourmet organic restaurant.

Each standard suite is divided into three levels (living room, bedroom and roof deck), offering views of the surrounding river, mangroves and coconut plantations.
Inside, the rooms are comfortable and cozy, with all the expected mod-cons (TV, DVD, Wi-Fi), and optional air-conditioning.
Out the back, looking down on the natural swimming pool, is the Tree House itself. The towering twin structure built around the site's largest tree, a lamphu, was designed to resemble a swallow's nest –- though judging from the initial conceptual drawings, it could just as easily have been inspired by the tree villages of Avatar.
The ABCs of green
One imagines the green message central to James Cameron's 2009 blockbuster was not lost on Jirayu. To encapsulate his environmental initiatives for the hotel, he created his own "Green Alphabet."
For instance, A stands for "A kilo of trash removed from the river for every booking you make with us"; F is for "Food at the Bangkok Tree House is organic, fresh and 100 percent 'artificial anything' free"; and Z is for "Zero waste goal. We follow the 'Six Rs' of sustainable living: Refuse, Refuse, Refuse, then Reduce, Reuse and Recycle."
Other initiatives include using only biological filters and hydroponically-rooted plants to naturally purify the water in the swimming pool, meaning no chlorine that can harm the human body or the ecology.
Of course, environmental leanings don't guarantee room bookings, which is why Jirayu is also relying on the charms of Bang Ka Chao to attract guests.
On a half day's ride on one of the hotel bikes (complimentary for guests during their stay), guests can visit a floating market, organic farms and orchards, Thai cooking schools, handmade incense workshops and ancient temples built by Mon immigrants more than a century ago.
It's certainly a bold plan, albeit one backed up by green credentials and an impressive track record. Although his last job was as assistant to the former finance minister Korn Chatikavanij (kicked out of office along with the rest of the Democrats), Jirayu has always been into hospitality — something he learned from his mother, who runs the Old Bangkok Inn. The Treehouse is very much his own project though.
And according to Jirayu, there's one final reason why the project is guaranteed to be a success: "I've already promised my girlfriend that we will get engaged here on November 11. If it's not finished by then, the wedding could be off."
Five questions for Jirayu Tulyanond
CNNGo: When and why did you become an environmentalist?
Jirayu: I'm not sure I had a "green aha moment." For me being green came gradually. As I grew up, I stopped paying attention to the superficial things in life, and started appreciating the more basic things around me.
When you pay close attention to nature you realize how intelligent and versatile she is, and if we work with rather than against her, a lot of problems can be solved. Humans cannot compete with three billion years of evolution, it's extremely arrogant for us to think otherwise.
CNNGo: Does being green run in the family?
Jirayu: Apparently it does. For as long as I can remember, my mother would divert laundry water from the washing machine into a container then use that water to mop the floors.
After mopping the floors she would pour the water on the plants. Now that i think about it, my mother practiced recycling even before it became hip.
CNNGo: What were your first impressions of Bang Ka Chao?
Jirayu: I first went there in May 2006, immediately after I had read an article about the area in Time magazine.
My first thoughts were "no traffic lights, no traffic signs, nothing but trees. I'm lost in a maze of fruit orchards and I don't know how to get back … I love it"
CNNGo: What will attract guests to the Bangkok Tree House?
Jirayu: I'd like to think that guests would choose to stay with us for our use of renewable energy, or even because we have green edible roofs.
However, the fact of the matter is, no matter how green you are, if your service is forgettable then no one is going to remember you. So first and foremost, it must be about great service and providing a unique and memorable experience.
CNNGo: If you could change anything about Bangkok, what would it be?
Jirayu: You mean apart from the traffic? Well, it would have to be the sewage system or rather the lack of it.
Did you know that practically everything we let down the drain (not toilet) in Bangkok eventually makes its way into our canals and rivers?
It's sad that the government has been talking about a ridiculous plan to build a 30-kilometer long wall to dam off the Gulf of Thailand to reclaim land from the sea, yet Bangkok does not even have a proper sewage system.
Bangkok Tree House (opens November 11, 2011). +66 (0)81 453 1100. info@bangkoktreehouse.com.
Brought up in Hong Kong, Thailand-based editor and writer Simon Ostheimer has worked at publishing houses in Shanghai, Beijing, Hong Kong, Kuala Lumpur and now Bangkok. As well as writing for CNNGo, he also regularly contributes to numerous international travel magazines and guidebooks.
Source: http://www.cnngo.com/bangkok/visit/sneak-peek-bangkoks-remarkable-tree-house-hotel-488019