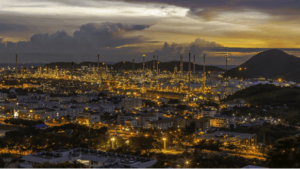 $4B Thailand Refinery Contract Awarded by ThaiOil
19 October 2018
ThaiOil, a unit of the Petroleum Authority of Thailand (PTT) Public Co., has awarded an onshore engineering and construction (E&C) contract to a Saipem-Petrofac-Samsung consortium for the expansion of its Sriracha refinery, Saipem reported Friday.
According to Saipem, the total value of the project is approximately $4 billion and the company's share is roughly $1.4 billion.
"The award of this contract consolidates the presence of Saipem in an area with great development prospects such as Southeast Asia and in particular Thailand, as well as confirming the company's ability to promote strategic partnerships and become a key player in the field of clean fuel technologies and high-tech projects," Maurizio Coratella, chief operating officer of Saipem's E&C Onshore Division, said in a written statement.
Located in the eastern coastal province of Chonburi, Sriracha is Thailand's main refinery, Saipem stated. The company noted that the expansion – part of ThaiOil's Clean Fuel Project – will increase the facility's capacity from 275,000 to 400,000. Moreover, it stated that the contract covers engineering, procurement and construction and calls for the start-up of new production units and upgrading some existing units.
"The project stands out for its high technologies, the complexity of implementation and the cutting-edge technical solutions it will provide in the refining sector," Saipem remarked.
Source: https://www.rigzone.com/news/4b_thailand_refinery_contract_awarded-19-oct-2018-157256-article/