In a land hooked on cheap energy drinks, a contender seeks Red Bull's throne.
BANGKOK, Thailand — Mongkon Kaewgan is exhausted. On a sidewalk near Bangkok's busiest commercial district, the spindly 22-year-old is slumped over his electric blue motorbike like a rag doll.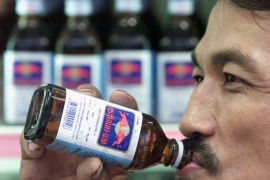 Nicknamed "Big," Mongkon earns loose change zipping passengers through gridlock traffic on his bike. In his shift's seventh hour, he is lulled halfway to sleep by the drone of idling cars. His cigarettes ran out hours ago.
Each afternoon at about this time, Mongkon slips away to a nearby 7-Eleven and buys a bottle of M-150, a Thai fatigue-fighting tonic. He drains the contents in five hard gulps. Rush hour is nigh and Mongkon fears braving Bangkok's dodge-and-weave traffic with dulled senses.
"This stuff kills the need to sleep," he said. "It's incredible. My whole motorbike taxi crew is hooked."
No country consumes more energy drinks than Thailand, where the average adult consumer drinks a staggering three gallons per year — four times more than in America, according to Zenith International, a U.K.-based market research firm.
The drinks are cheap (33 cents), spiked with caffeine and sold in five-ounce chug-and-toss glass bottles. Decorated with flying tigers and buffalo skulls, they're sold under a variety of tough-guy titles: Shark, Magnum .357 and "Raeng," which is Thai for "power." Most share the same nearly indistinguishable taste: a non-carbonated, jolt of sweetness reminiscent of liquified gummy bears.
But the current king of energy drink battlefield is M-150, its macho name vaguely suggesting firecrackers or assault rifles. The drink, produced by the Bangkok-based firm Osotspa, controls more than 65 percent of the Thai market, which is estimated at $500 million, according to the Food Industry Thailand consultancy. Osotspa now plans an aggressive expansion in Europe, the Middle East and especially the United States, the world's largest energy drink market.
M-150's dominance has required taking on Red Bull, the original iconic energy drink. Only introduced to the United States in 1997, the brand is nearly 50 years old in Thailand.
Developed by Bangkok's T.C. Pharmaceuticals firm in 1962, and spread globally through an Austrian investor, Red Bull has helped make the firm's founder Thailand's second-richest man. As recently as 2004, Red Bull controlled half of Thailand's energy drink market.
But M-150 has challenged Red Bull by aggressively courting the male working class (M-150's slogan: Devotion! Courage! Sacrifice!). Winning over this key demographic is crucial in a country where laborers rely on energy drinks to push through long shifts.
"The popularity of energy drinks has grown in parallel with the need to work overtime," concluded a study of Thai energy drink consumers by Bangkok's Mahidol University. "Although Thailand has high economic growth, the income of laborers, particularly construction workers, does not keep pace with the ever-increasing costs of living."