Some people are far too trusting of gadgets and this was especially true on Saturday when a driver got their vehicle stuck on a footbridge in Nonthaburi.
The picture of the car perched precariously on the narrow bridge was widely shared on social media.
Locals reported that a Toyota people carrier had been abandoned on the bridge over the Klong Phra-u-dom canal in Nonthaburi.
The abandoned vehicle left locals wondering why anyone in their right mind would attempt to drive a car down a bridge that is only just suitable for use by motorbikes.
Mr. Vichit Kingsodsee, 52, a local who uses the bridge every morning to go to work told reporters he was a little shocked when he saw the car on the bridge. "Even when using a bike it is sometimes difficult to cross if there is a bike coming in the opposite direction", Mr Vichit said.
Mr Vichit said he found the vehicle on the bridge but there was no sign of the driver.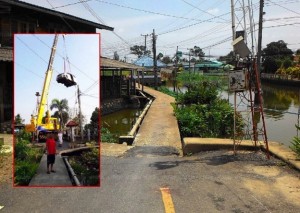 The car was eventually removed by a rescue team who used a crane to free the vehicle on Sunday.
However, the identity of the driver remains unknown.
Source: http://www.thaivisa.com/forum/topic/907938-wrong-way-car-stuck-after-driver-follows-gps-down-nonthaburi-footbridge/?utm_source=newsletter-20160404-1511&utm_medium=email&utm_campaign=news