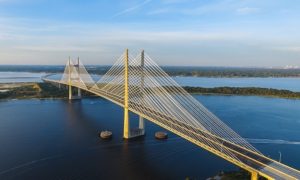 Vietnam's Mekong Delta could get two new bridges
An artist's impression of Vam Nao Bridge crossing the Tien River in An Giang Province in the Mekong Delta. Photo by My Thuan Project Management Board
Construction of two bridges across a Mekong tributary are proposed at a cost of VND9 trillion ($386 million) to replace ferry services currently in use.
The Ministry of Transport's My Thuan Project Management Board has called for building the Tan Chau – Hong Ngu and Vam Nao bridges over the Tien River to link An Giang and Dong Thap provinces and within An Giang.
It said the Tan Chau – Hong Ngu Bridge would be 890 m long but the entire project including the roads leading to it would stretch more than 17 km.
The four-lane bridge will cost VND6.2 trillion.
Vam Nao will run 10 km, including more than 9.5 km of roads, link Cho Moi and Phu Tan districts and cost VND2.9 trillion.
It will provide straightforward access to the Vinh Xuong border gate with Cambodia.
The board said, once completed, Vam Nao would connect with the N1 National Highway to complete a traffic grid linking the provinces of Kien Giang, An Giang and Dong Thap.
An Giang chairman Nguyen Thanh Binh said the two ferry systems are overloaded, especially during holidays, and so the two bridges are highly anticipated.
He urged the board to quickly make detailed plans so that land could be acquired and cleared and funds mobilized.
The bridges are expected to be financed by the government and two provinces.
One of the two main tributaries of the Mekong in Vietnam, the Tien flows 230 km through An Giang, Dong Thap, Tien Giang, Vinh Long, Tra Vinh, and Ben Tre provinces.
There are currently three bridges crossing the river – Cao Lanh, My Thuan and Rach Mieu – and two others under construction – My Thuan 2 and Rach Mieu 2.
Source: https://e.vnexpress.net/news/news/mekong-delta-could-get-two-new-bridges-4502313.html