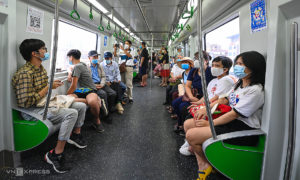 Vietnam's first metro line operator, Hanoi Metro Company, records $2.7 mln loss in 2021
Hanoi Metro Company, which operates the Cat Linh-Ha Dong metro line, has reported a loss of VND64 billion ($2.75 million) in 2021.
The company's accumulated loss since it began operations in 2015 is VND160 billion ($6.9 million) according to an audited financial report.
The report shows revenues of just VND5 billion in two months after the metro line, the country's first, began commercial operations in November last year. Its operating costs amounted to nearly VND60 billion.
High labor costs are a major factor in the company recording a net loss of VND64 billion last year, the report said.
In 2020, it had posted a loss of VND23 billion.
A company representative said the fourth Covid-19 outbreak that hit the country in April 2021, requiring strict social distancing measures, had negatively affected the whole country's economy including the transportation business.
Its gloomy financial picture was also because the Cat Linh-Ha Dong metro route is not yet subsidized by the city, the representative said.
Passenger transportation by bus and urban railway are public sector undertakings, so subsidized ticket prices are determined by the city to encourage people to use public transportation and reduce the use of private vehicles so as to minimize congestion and environmental pollution.
Hanoi's public buses have been subsidized for many years and the Hanoi People's Council earlier passed a resolution to spend VND14.46 billion ($622,470) per year in subsidies for fares on the Cat Linh – Ha Dong metro line.
The company is currently in the process of completing documents for the city to provide the subsidy for the metro line for the last two months of 2021 and the whole year of 2022, the representative said.
The metro line runs 13 kilometers from downtown Cat Linh to the southwestern district of Ha Dong, with a trip taking around 23 minutes.
It costs VND8,000–15,000 ($0.35–0.66) a ticket and VND200,000 for a monthly pass.
In six months, the metro line has transported 3.16 million passengers.
It is one of 10 lines planned for Hanoi by 2030 with a total length of 417 kilometers, 82 percent of it above ground and the rest underground.
Source: https://e.vnexpress.net/news/news/vietnam-s-first-metro-line-operator-records-2-7-mln-loss-in-2021-4477712.html