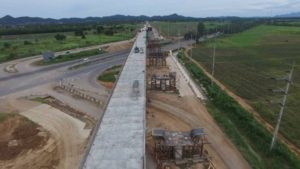 Two way bridge connecting Routes 2052 and 2057 in Hua Hin will be finished mid-2021
The department of rural roads has announced the progress of work that will connect Routes 2052 and 2057 utilizing an elevated section.
DRR chief Pathom Chaloeywaret said that the intersection had caused accidents and traffic build up due to the high usage of the bypass road around Hua Hin.
The development at a cost of 382.3 million baht will include two bridges comprising four lanes.
There will be two u-turns under the bridges.
The new section, which is located at the end of Soi 112 at the bypass road, is a little over 2 kilometers in length.
Work is expected to be complete by the middle of next year.
Source: Ban Muang & Thaivisa