Three Thai families, the Chearavanont, Chirathivat and Ratanarak families, are among Asia's richest families in 2015 ranked by Forbes Asia magazine.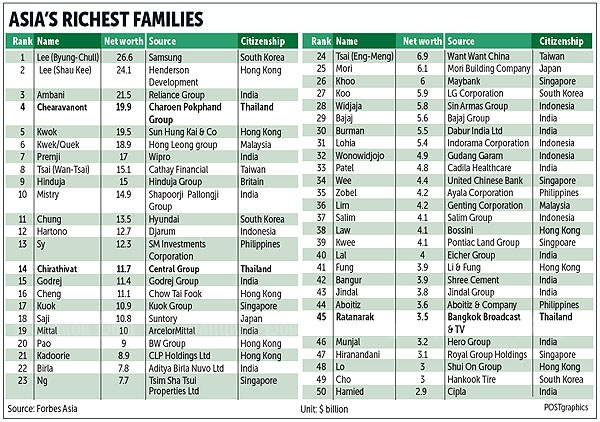 The Chearavanont family, which controls the Charoen Pokphand Group, ranked fourth among the 50 richest families with US$19.9 billion in net worth, according to the magazine's latest issue, which was published yesterday.
The Chirathivat family, which owns giant retail businesses under the Central Group, came in 14th with $11.7 billion, and the Ratanarak family, which controls Bangkok Broadcasting's Channel 7, ranked 45th with $3.5 billion in net worth.
South Korea's Lee family, which controls the formidable Samsung conglomerate, topped the inaugural list of Asia's 50 richest families. The family had a net worth of $26.6 billion as of late September, with second- and third-generation members now running more than 50 businesses, the magazine said.
The Samsung empire, founded in 1938 by Lee Byung-chull, has diverse interests, ranging from mobile phones to construction and shipbuilding.
Forbes Asia said Samsung, the biggest of the chaebol or family-run conglomerates that dominate South Korea's economy, accounted for 22% of the country's GDP in 2014.
"Nearly half of the richest families in Asia are of Chinese descent, yet none of the inaugural 50 is based in the mainland, where conglomerates are young, run by the first generation," it said in a report.
The second richest is the Hong Kong Chinese family, also surnamed Lee, which controls Henderson Development and boasts a fortune of $24.1 billion.
The third richest are the Ambanis of India's Reliance Group with a combined net worth of $21.5 billion, followed by Thailand's Chearavanont family with $19.9 billion, generated from the agriculture-based Charoen Pokphand group.
Rounding out the top five is the Kwok family, which controls Hong Kong's Sun Hung Kai property empire, with a combined net worth of $19.5 billion.
Source: http://www.bangkokpost.com/business/news/723876/three-thai-families-in-forbes-asia-top-50