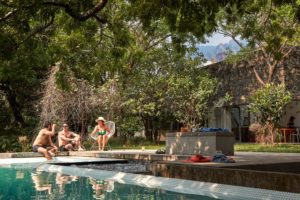 The rise of the 'work-cation' in Thailand
Thailand among the most popular destinations in the world for long-term stays on Airbnb, says company survey
As travel begins to resume slowly in the new normal, Airbnb sees an emerging trend across Asia-Pacific as people build on their work-from-home experience to enjoy extended "work-cations" and opt to live anywhere.
According to a recent YouGov survey commissioned by Airbnb, 87% of respondents in Thailand found an extended work-cation appealing, the most of any country surveyed in Asia-Pacific.
This interest in working from anywhere is supported by a growth in long-term stays on Airbnb's platform, with Thailand ranking second globally with the greatest share of long-stay bookings.
Airbnb is still not legal in Thailand but thousands of landlords defy the law in any case, knowing that enforcement is weak.
Driving the desire of people in Thailand to work from anywhere, according to Airbnb, is the ability of the workforce to do so, following a global pandemic that has kickstarted a work-from-home revolution.
According to the survey findings, since the start of the pandemic one in three workers (34%) in Thailand were allowed to work from home by their employers, while more than half the workforce (51%) have always been allowed to work from home.
With increased ability to work from home there is also a growing desire for people to combine work and travel and take extended work-cations. While for some a change of scenery is the most appealing aspect of working from somewhere other than home, for Thais it is the prospect of reinvigorating their work life (58%) that appeals most. The ability to combine work and holiday is also high on their priority list (47%).
Quieter, more off-the-beaten-path locales, coastal and rural work-cation destinations are most popular with Australian and South Korean survey respondents. For Thais, however, the preference is to take an extended work-cation in other urban destinations (46%). Coastal (41%) and rural (31%) destinations are second and third choices, with a work-cation overseas the least appealing (29%).
The desire to travel and work domestically, and in major destinations, is reflected by Airbnb booking data, as Thailand is among the most popular destinations in the world for long-term stays on Airbnb.
Some of the trending Thai destinations for long-term stays include Phuket, Nonthaburi, Prachuap Khiri Khan, Chon Buri and Udon Thani.
"As the pandemic is changing how people want to work, travel and live, we believe Airbnb provides diverse travel options suited to changing consumer preferences," said Amanpreet Bajaj, general manager for India, Southeast Asia, Hong Kong and Taiwan with Airbnb.
"While travel in Thailand continues to trend towards domestic, as the country slowly reopens, the diverse array of long-term stays on our platform provides a wide range of attractive options for domestic and regional tourism."
Source: https://www.bangkokpost.com/business/2021523/the-rise-of-the-work-cation