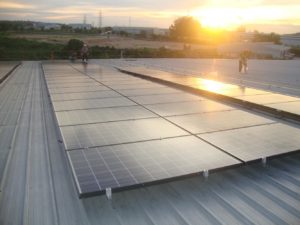 Thailand's WHA Utilities & Power to scale up peer-to-peer (P2P) power trading platform
Firm anticipates 25% growth in revenue
SET-listed WHA Utilities & Power (WHAUP), which provides utilities under WHA Corp, Thailand's biggest industrial land developer and operator, plans to scale up a peer-to-peer (P2P) power trading platform as it sees an opportunity to serve more factories buying and selling electricity produced by rooftop solar panels.
WHAUP targets factories in industrial estates run by its parent company.
"We are searching for new potential business areas where we can run a commercial scale of power trade among our clients," said WHAUP chief executive Niphon Bundechanan.
"The plan to scale up the trading platform will be finalised next year."
Earlier in July WHAUP announced a plan to develop what it claimed to be the world's largest platform of P2P energy trading among factories in a WHA industrial estate in Rayong's Pluak Daeng district.
The trading platform, designed to serve power generation capacity of 100 megawatts, will be developed for large factories and warehouses.
Its parent company, WHA, operates 11 industrial estates in Thailand, mostly located in the Eastern Economic Corridor area, and runs an industrial estate in Vietnam.
Three more new industrial estates in Thailand are under construction, giving an opportunity for further development of P2P power trading, said Mr Niphon.
WHAUP is conducting a trial of a P2P trading platform under a sandbox overseen by the Energy Regulatory Commission (ERC), known as an ERC sandbox scheme, which aims to test microgrid electricity management.
Its platform is based on a prosumer business concept, in which factories can both produce and consume electricity.
In June, WHAUP joined hands with Sertis Co and PTT Group to develop a smart energy platform, which will support the P2P energy trading project.
Artificial intelligence and blockchain technology will be used to optimise electricity management on the trading platform.
The three companies expect to make a commercial launch of the P2P electricity trading platform next month.
WHAUP has so far provided a service to install rooftop power panels for large companies with production bases in WHA-run industrial estates. They include a 2.5MW Honda Solar Park and a project to install a 4.2MW solar system for Continental Tyres Thailand.
WHAUP expects its revenue to grow by 25% this year, up from 1.77 billion baht last year.
Around 60% of its total revenue comes from the power business, and the remaining 40% comes from other businesses, including water supply.
WHAUP predicts its annual water sales will increase to 153 million cubic metres this year, up from 114 million cu m last year.
Source: https://www.bangkokpost.com/business/2193759/whaup-to-scale-up-p2p-trading-platform