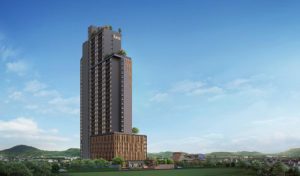 Thailand's SET-listed developer Sansiri banking on lower-end condos
SET-listed developer Sansiri Plc will launch lower-end condo projects for sale a month before construction is completed and work with banks to ensure the transfer of units with lower mortgage loan rejections.
Ongart Suwannakul, assistant executive vice-president for project development department (high rise), said this strategy can help the company achieve sales and transfers in lower-end segments which have a higher mortgage rejection than others.
"All of our lower-end condo projects will be pre-built or be launched for sale one month before construction is finished," he said. "If customers are ready to book but are not ready to get a unit transfer, our cooperative banks will come to help."
Customers can also submit their financial statement to get pre-approval before booking a unit.
This method can help them check their own lending ability and can get an improvement for any problem with the statement.
Assistance from banks which are the company's partners will comprise advice on statement improvement, interest rates, age of lending contract, loan payment and credit line.
Sansiri will launch a total of 18 new projects worth a combined 11 billion baht for its condo segment this year.
In 2022, the firm eyes 14 billion baht in presales, a 26% increase from 11.1 billion baht last year.
Transfers will total 13 billion baht, down from 14.2 billion baht in 2021, that was 10% higher than the target.
Twelve projects, accounting for 60%, will be units priced lower than 2 million baht under three brands comprising Condo Me at lower than 1 million baht a unit, The Muve and Dcondo priced from 1-2 million baht a unit.
"Units priced less than 2 million baht are an affordable segment which we will continue tapping this year after posting a good sales and transfer rate last year," said Mr Ongart.
Of the 18 new projects, four will be in the provinces, including Hua Hin, Chiang Mai, Khon Kaen and Hat Yai as they saw a recovery in the tourism sector in 2022, largely driven by domestic travel.
"A good sign for the property sector is shown in major tourism provinces where demand remains strong," he said. "We will launch a new condo project in Chiang Mai this year after selling out 1517 Nimman condo there last year."
During 2022-24, Sansiri plans to launch new condo projects worth a total of 70 billion baht and aims to have 58 billion baht in three-year presales.
Source: https://www.bangkokpost.com/business/2271603/sansiri-banking-on-lower-end-condos