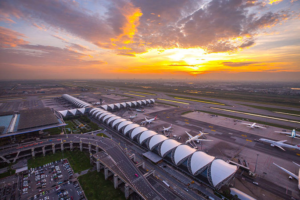 Thailand's Senate panel calls for urgent moves to expand Bangkok's Suvarnabhumi Airport
By The Nation
A Senate committee has urged government agencies to speed up the expansion of Suvarnabhumi Airport to deal with the increasing number of visitors to the country.
General Yodyuth Boonyathikarn, chairman of the Senate Committee on Transportation, said that they had a meeting with Airports of Thailand (AOT) officials on December 19 and the committee acknowledged the urgent need for the expansion of Suvarnabhumi Airport.
After hearing information, the progress being made and obstacles facing the project, the committee told the AOT to hasten the decision since the capacities of both Suvarnabhumi and Don Mueang airports are not capable of meeting the needs of the travellers.
AOT president Nitinai Sirismatthakarn said that they had already gathered all documents and opinions sent them to the Transport Ministry and the Office of the National Economic and Social Development Council for approval.
If any further studies were required, AOT believes the draft could be proposed to the Cabinet within January 2020 while construction could be started after the Cabinet approves the design draft, which will take a year.
The plan has been delayed by a year.
Rawee Machamadon, member of Parliament of the New Palang Dhamma Party, said there were more than 10 organisations standing in the way of expanding the terminal project. He asked them to look at the original master plan. He also claimed that Nitinai was putting others under stress when mentioning or giving opinions on the project. Rawee suggested sending the matter to Transport Minister Saksayam Chidchob and getting the related offices to find solutions to problems, as the project will cost a huge sum of money.
Source: https://www.nationthailand.com/news/30379721