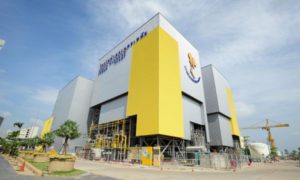 Thailand's EGAT eyes 830MW expansion at North Bangkok power plant in Nonthaburi Province
Commercial operation is expected to start in 2028.
The Electricity Generating Authority of Thailand (EGAT) is looking to start the North Bangkok Power Plant's first phase of expansion by adding a 830MW natural gas-fired power plant that will operate commercially in 2028, according to an announcement.
The power plant will be constructed in the same area of the present North Bangkok Power Plant, at EGAT headquarters, Bang Kruai District, Nonthaburi Province.
The North Bangkok Power Plant (Extension) Phase 1 has been incorporated in Thailand Power Development Plan B.E. 2561-2580 or PDP2018 to enhance the long-term power security in Bangkok.
EGAT and SECOT Company Limited recently held a public hearing in Nonthaburi and Bangkok to aid their Environmental Impact Assessment (EIA). Residents' concerns included effects on health, water disposal into the Chao Phraya River, care for aquatic animals, noise, and dust particles and pollutant emissions.
Source: https://asian-power.com/project/news/thailands-egat-eyes-830mw-expansion-north-bangkok-power-plant