Thailand's Department of Special Investigation to investigate 'unlawful' registration of Hopewell
SEE ALSO:
Thailand's Transport Minister To Continue Fight Against Hopewell Compensation Award
End Of Hopewell Saga – Court Rejects Petition For A Retrial – Thai State To Pay ฿24 Billion Compensation
Wikipedia: "Hopewell was the lead contractor for the ill-fated Bangkok Elevated Road and Train System. The project commenced in 1990 and was terminated by the Thai government in 1998, only 13% complete. Each side blamed the other for the failure of the project. Both parties sued, and the case has been in litigation since its cancellation. On 23 April 2019, Thailand's Supreme Administrative Court upheld an arbitration committee's ruling in favour of Hopewell, contractor for the 80 billion baht project. The court ordered SRT to pay Hopewell compensation of 11.88 billion baht, plus 7.5% interest per year. The interest, totaling 13 billion baht, brings the total to nearly 25 billion baht (c. US$400 million), payable within 180 days."
The Department of Special Investigation (DSI) has received a request to investigate Hopewell (Thailand) after a House committee alleged the registration of the company was unlawful.
Nitithorn Lamluea, a lawyer representing the Ministry of Transport and the State Railway of Thailand (SRT), yesterday submitted a petition to the DSI, asking the department to investigate the registration of Hopewell (Thailand) by the Department of Business Development.
Mr Nitithorn said the registration of the company had been improperly carried out in violation of a cabinet resolution, causing damage to the government.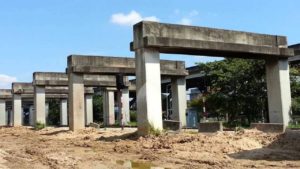 According to the ministry and the SRT, Hopewell (Thailand) was unlawfully registered with the Department of Business Development on Nov 5, 1990, as it was then a foreign legal entity and did not have the permit to operate transport businesses and services in the kingdom.
The government should not compensate Hopewell (Thailand) even though the courts have handed down their rulings on the case, Mr Nitithorn said.
In April, the Supreme Administrative Court ordered the ministry and the SRT to pay Hopewell (Thailand) 25 billion baht for wrongfully terminating a contract.
Mr Nitithorn urged the government to appoint former National Anti-Corruption commissioner Vicha Mahakun to launch a probe into the Hopewell case. The lawyer was apparently drawing on Mr Vicha's legal expertise after the latter conducted a probe into the Red Bull scion's hit-and-run case in which he managed to identify parties including police and prosecutors who allegedly mishandled the investigation.
The lawyer said he will also submit a letter on the Hopewell case to Prime Minister Prayut Chan-o-cha for a re-investigation next week. The House of Representatives convened a meeting yesterday and the Hopewell issue was on the agenda.
Pirapan Salirathavibhaga, Gen Prayut's adviser and member of the working team considering Hopewell's legal issue, told the meeting the registration of Hopewell (Thailand) was unlawful and should be made null and void.
As a result, the enforcement of the Administrative Court's ruling that ordered the government to compensate Hopewell could be revoked, he said.
Mr Pirapan's working group also found the cabinet had appointed the Ministry of Transport as the government's representative in signing a contract with Hopewell Holding (Hong Kong). However, the ministry wrongly proceeded to seal the deal with Hopewell (Thailand).
During the House meeting, some MPs voiced their agreement with the findings and suggested the government urgently stamp out irregularities in the Hopewell project. The MPs thought Mr Vicha should be invited to chair a panel on the Hopewell issue.
Mr Pirapan said there are other points in the case, including the unlawful registration, which could be pursued in the court of law.
Source: https://www.bangkokpost.com/thailand/general/1979455/dsi-to-investigate-unlawful-registration-of-hopewell