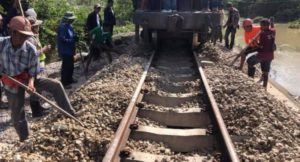 Thailand eyes rail extension to Ranong port on Andaman coast for trade with BIMSTEC nations
By THE NATION
The railway line between Chumphon and Ranong provinces will be extended to Ranong port in order to facilitate the transport of goods from the mainland to BIMSTEC countries via the Andaman Sea.
BIMSTEC countries include Bangladesh, Bhutan, India, Nepal, Sri Lanka, Myanmar and Thailand.
Pailin Chuchottaworn, chairperson of the government's economic steering committee, said a feasibility study on the 90-kilometre railway project is currently underway and the project will take three to four years to complete.
Pailin said he had proposed this project during his tenure as deputy transport minister between 2017 and 2019, when he spotted an old railway track during a visit to the province. He learned from the locals that this route had been built by the Japanese army during World War II and has been abandoned for many years.
This railway track, he said, went as far as the coast of Ranong where people can take boats to Myanmar. However, he said, this route was only used during the war and had been attacked by the Allies.
Pailin said he wanted the Transport Ministry to study and reconstruct this rail track so it can be used as a trade link through the Andaman to other BIMSTEC countries.
Source: https://www.nationthailand.com/news/30397417