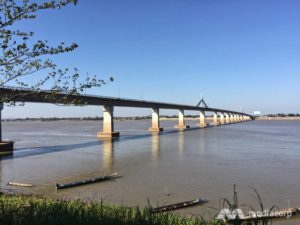 Thailand eyes construction of 6th Thai-Lao friendship bridge in 2025
Thai Minister of Transport Saksayam Chidchob said Friday his ministry has scheduled to complete the construction of the 6th Thai-Lao friendship bridge by 2025.
During his trip to the northeastern provinces of Amnat Charoen, Yasothon and Mukdahan provinces, Saksayam said he is in discussion with various agencies in speeding up the construction of the bridge before he can sit down with the Lao government to schedule the date of bridge's opening ceremony.
The minister said the 4.36-billion-baht (140-million-U.S. dollar) new bridge would stretch 1.02 km and link Thailand's Highway 2112 in Na Tan district of northeastern Ubon Ratchathani province and Highway 13 in La Khone Pheng town of Laos.
Saksayam said he expected both Thailand and Laos to share the cost of the bridge construction.
Land will be expropriated in the next two years, he said.
Construction of the bridge could start in 2023 and be completed in 2025, the minister said.
The 6th Thai-Lao friendship bridge, once built, is expected to enhance border trade and promote tourism between Thailand and Laos.
Source: http://www.xinhuanet.com/english/2020-10/17/c_139445912.htm