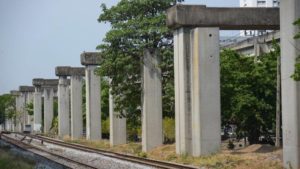 Thai Government readies two lawsuits to avoid paying billions in compensation to Hopewell (Thailand)
The Transport Ministry and the State Railway of Thailand (SRT) are preparing two lawsuits against Hopewell (Thailand) Ltd to dodge having to pay billions of baht in compensation, a source at the ministry said on Monday.
The move comes after the Supreme Administrative Court on March 4 accepted the government's request for a retrial of the Hopewell case – a two-decade-long legal battle over Bangkok's doomed multibillion-baht-mass-transit project.
This retrial offers the Transport Ministry and SRT fresh hope of escaping the Supreme Administrative Court's order to pay 25.4 billion baht in compensation for cancelling the 80-billion-baht elevated highway and railway project.
The source said that apart from preparing for the retrial, the Transport Ministry and SRT are also getting two lawsuits ready to invalidate the establishment of Hopewell in Thailand.
The first lawsuit will be filed at the Civil Court seeking a ruling on whether the Hopewell project violated the National Executive Council Announcement No 281, which requires companies to be qualified and approved by the Cabinet before conducting business in Thailand.
The Transport Ministry has assigned this case to Thanatdet Khamchu, an attorney for special civil cases at the Office of the Attorney General.
The second case will be filed by SRT against the registrar of the Bangkok Office of the Central Company and Partnership Registration, who did not object to the registration of Hopewell (Thailand) even though it was in violation of the announcement.
The Central Administrative Court had earlier ruled to dismiss this case, but SRT is planning to appeal the ruling at the Supreme Administrative Court.
This case will be overseen by SRT lawyer Nitithorn Lamleur.
Transport Minister Saksayam Chidchob has said the ministry's and SRT's legal teams are preparing to file the cases within this month.
"The ministry is confident that from the evidence at hand we can 100 per cent win the cases and protect the country's interest," the source quoted Saksayam as saying.Published : April 19, 2022
By : THE NATION
Source: https://www.nationthailand.com/in-focus/40014691