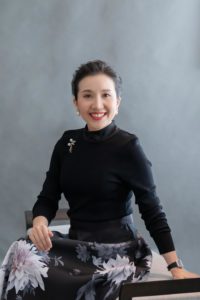 Thai Developer Asset World Corp Riding out the Covid pandemic storm in style
Asset World Corp's Wallapa Traisorat is ready for recovery with a pipeline of luxury hotels
The global pandemic has posed challenges for the hospitality sector over the past 19 months, but SET-listed Asset World Corp (AWC), led by Wallapa Traisorat, has continued to grow its portfolio with three large mixed-use developments adding more than 3,800 hotel rooms and residential units to its pipeline.
During the first half this year, AWC saw net operating profit decrease 15.6% to 1 billion baht as the third wave of the pandemic interrupted positive momentum from the fourth quarter of 2020.
"We learned from the pandemic last year that partnerships with top global hospitality firms that offer leading hotel brands in prime locations could bring better rates and occupancy when travel demand gets back on track," said Mrs Wallapa, AWC chief executive and president.
To accelerate growth from new projects and renovate existing properties, AWC has prepped 100 billion baht for 2022-2026 with the aim of strengthening its capital structure and focusing on quality assets that could bring better returns on investment amid uncertainties.
She said those big three projects should be ready from 2024-2029, which should dovetail with Thailand's tourism recovery and match up with AWC's long-term growth strategy.
The largest investment is A Siam Asiatique, featuring 1,304 rooms at two hotels — JW Marriott and Ritz-Carlton — along with a Ritz-Carlton residence and a new lifestyle office by the Chao Phraya River with 20,000 square metres of space.
The company chose top hotel brands for its second-largest mixed-use project — Aquatique District Pattaya — with roughly 2,040 rooms under four hotels and two residences managed by luxury brands such as Vignette Collection, Marriott and Autograph Collection, said Mrs Wallapa.
The 16-billion-baht Woeng Nakhon Kasem project in Bangkok's Chinatown is a mix of attractions, retail space, a hotel and residences featuring brands from InterContinental (IHG).
While other top Thai hospitality companies build their own brands to grow management fee revenues, AWC has pursued a different approach as it prioritises strategic partnerships that can support healthy growth.
"We're not a hospitality firm that builds hotel brands, but we are a real estate investor and developer that seeks the brands that can support the best returns on investment at a faster speed and can offer the best experience for customers," she said. "This strategy saved us from being disrupted as we are backed by a strong global network of over 300 million customers that support our growth without overly depending on online travel agents, which cost one-fifth more than direct booking."
Less than two years after listing on the SET in 2019, AWC has 19 hotels with 5,195 rooms, plus 270,000 sq m of office space and nine retail properties. AWC has partnered with seven global companies that provide top-tier branded hotels and residences: IHG, Marriott International, Banyan Tree Hotels & Resorts, Hilton, Melia Hotels International, Okura Hotels & Resorts and Nobu Hospitality.
INTEGRATED SERVICES
Mrs Wallapa said AWC capitalises on those strong brands and portfolios by offering hotel services to office tenants under the AWC Infinite Lifestyle programme. AWC will introduce a new model for branded residence sales in the next few years, where buyers can earn income by renting out their property and choose to stay at any AWC residence or hotel, she said.
Wallapa Traisorat, chief executive and president of Asset World Corp (AWC).
This strategy is in response to behavioural changes as people seek more work-life integration, or investment that combines both value and lifestyle, said Mrs Wallapa.
"When we look at real estate development today, there are blurred lines between each sector. Rising trends like 'workations' or 'staycations' mean we can merge lifestyle services to boost new demand for each property," she said.
As office buildings are expected to face a greater impact this year than in 2020, this scheme should help maintain the market and increase attractiveness to potential international firms who have already expressed interest in renting the space, but cannot come and inspect the site due to the inconvenience of travel, said Mrs Wallapa.
She said some tenants must terminate their contracts early because they were affected by the downturn. These companies may need time to adjust their plans for office usage.
AI FOR SYNERGY
One of AWC's strengths is its synergy with TCC Group, founded by Mrs Wallapa's father Charoen Sirivadhanabhakdi. She said AWC, as a flagship of the group, has the first right to acquire any asset from TCC for development, but those lands are freehold assets meaning there is not pressure to start development if the timing is inopportune.
Mrs Wallapa said AWC still has plenty of land to explore. The company uses an artificial intelligence analytics system to pre-screen opportunities at each location according to investment criteria. This process helps offload manual screening for the acquisition team and ensures the right investment decision.
"The synergy model makes us stronger in terms of a growth pipeline, but we can manage risk better, avoiding the cost burden when it's not yet the right time to buy land," she said.
Source: https://www.bangkokpost.com/business/2193143/riding-out-the-storm-%E2%80%A6-in-style