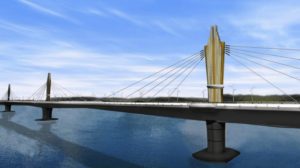 Thai Cabinet notes development of Friendship Bridge 5, engineers to create a temporary crossing
Government house deputy spokeswoman Traisuree told Thai Rath that a cabinet meeting discussed the ongoing work to build a bridge between Thailand and Laos.
This one will be between Bung Kan province and Bolikhamsai on the Laotian side.
In order to start work on what will be known as Friendship Bridge 5, the engineers need to create a temporary crossing between the two countries between Ban Don Yom on the Thai side and Kuay Udom across the border.
The cabinet gave the nod to this and work will continue on the bridge that the Thai media noted will be an important trade link with Thailand's neighbor.
Source: https://aseannow.com/topic/1255854-cabinet-notes-development-of-friendship-bridge-5-with-nod-to-temporary-crossing/