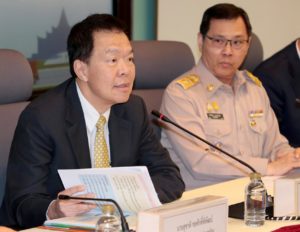 Thai cabinet considers plan to grant tollway operator a 15-year contract extension to avoid paying  4.3 billion baht compensation
BEM settlement plan goes to cabinet
Transport Minister Saksayam Chidchob will on Tuesday ask the cabinet to approve a plan to grant Bangkok Expressway and Metro Plc (BEM) a 15-year contract extension in order to avoid paying the firm more than 4 billion baht in compensation.
"This is the best way out," Mr Saksayam told reporters yesterday, referring to the outcome of four months of negotiations with BEM.
The compensation stems from a lawsuit BEM filed against the Expressway Authority of Thailand (Exat). BEM accused the state agency of a contract breach by building a parallel route in direct competition with it. BEM demanded 100 billion baht in compensation.
Last year the Supreme Administrative Court sided with BEM and ordered Exat to pay the firm 4.3 billion baht.
The court said the National Memorial-Rangsit section of the Don Muang Tollway built by Exat was hurting revenue from the BEM-owned Udon Ratthaya Expressway, which links Pak Kret with Bang Pa-in.
Unwilling to pay the compensation, the Transport Ministry suggested BEM settle the debt and all conflicts in exchange for a concession to run expressways for another 30 years. This, however, sparked fierce opposition from the State Enterprises Workers' Relations Confederation.
"We've decided to reduce the extension period to 15 years and eight months," permanent secretary for transport Chaiwat Thongkhamkhun said.
The firm will also see its contract to run Udon Ratthaya Expressway extended for nine years and one month.
Source: https://www.bangkokpost.com/business/1822694/bem-settlement-plan-goes-to-cabinet