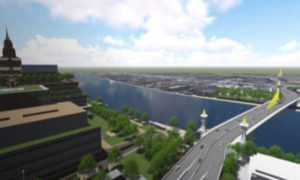 Thai Cabinet approves new six lane road bridge in Bangkok
New bridge "Kiakkai bridge" that will join Phra Nakhon and Thonburi
Deputy government spokesman Ratchada Thanadirek said that cabinet approval had been gained for the expropriation of land in five districts.
This will pave the way for a new bridge so far called "Kiakkai bridge" that will join Phra Nakhon and Thonburi, reported Sanook.
It is in the area of the new parliament and tests are being done to assess whether its building will weaken the structure of the swanky new parliament building.
The bridge will be 320 meters long and have three lanes on each side.
Experts have deemed a new bridge was the only way to solve traffic problems in the area.
Source: Asean Now and Sanook