Thai air conditioning market hot for investment
Japan's Iwatani starts work on a second parts factory near Bangkok
A major Japanese industrial gas supplier is poised to further expand its footprint in Thailand with a second air conditioner parts plant.
Iwatani will invest around 500 million yen ($4.57 million) to build the factory adjacent to an existing facility near Bangkok. Plans are for the new plant to begin operating in early 2019.
Iwatani's Thai air conditioner parts capacity would then double.
Air conditioners have yet to make their way into many Thai homes, but the penetration rate is expected to rise sharply. Big Japanese air conditioner makers have been rushing to set up operations in the increasingly promising Southeast Asian market.
Bangkok Ai-Toa, a joint venture Iwatani is a part of in Samut Sakhon Province, will produce wire rod processed products at the new plant.
Construction has already begun, and when the plant goes online Iwatani will be able to further strengthen its dominance in Thailand's wire rod processed products market. These parts are used in air-conditioning cooling fans.
Bangkok Ai-Toa currently can supply enough wire processed products for 7 million air conditioners a year.
The joint venture's existing plant engages in welding, coating and other operations.
The new plant will have a state-of-the-art welding robot system to speed up production. Bangkok Ai-Toa plans to increase the number of local employees from the current 400 or so.
The five biggest air conditioner makers in Thailand, which include major Japanese companies such as Daikin Industries and Mitsubishi Electric, together produce around 15 million units a year.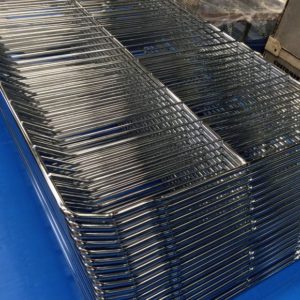 Iwatani produces the bulk of wire processed products used by major Japanese and other air conditioner makers in Thailand and boasts a dominant 80% share of the local market for these parts.
In Thailand, home air conditioners are not widely used despite the country's tropical heat and humidity. According to Iwatani, the country's air conditioner penetration rate is still 20% or lower.
Iwatani expects this to change, and quickly, especially in urban areas, where many development projects are planned or underway.
Major Japanese air conditioner makers are thus rushing to set up operations in Thailand.
Iwatani also has future plans to boost production in China, where the air conditioner market is expanding.
In addition, Iwatani will consider establishing a new foothold in Thailand to undertake contract manufacturing for other industries such as auto parts. The company wants to utilize its welding and other technologies.
It is aiming to triple annual sales of wire processed and other products in foreign countries to 15 billion yen in fiscal 2020, which starts in April 2020.
Iwatani's core energy and industrial gas businesses, which include liquefied petroleum gas and liquid hydrogen, account for about 70% of its overall sales.
Iwatani has positioned the wire processed product and other material-related business as a new pillar of growth under its current midterm management plan, which expires in fiscal 2018.
The plan is to boost annual sales at its material-related business by 10% from fiscal 2015, to 140 billion yen.
Source: https://asia.nikkei.com/Business/Companies/Thai-air-conditioning-market-hot-for-investment