Supertall buildings – How high will Bangkok's skyline go?
Bangkok is packed with tall buildings and according to The Skyscraper Centre, it is 11th on the list of cities with the most structures over 150 metres. Yet it has only a handful of 'supertall' developments (over 300 metres), in stark contrast to many regional rivals. Why? Dr Praween Chusilp of Aurecon explains some of the engineering challenges the city must overcome to create more supertall developments.
Back in 2012, the Council on Tall Buildings and Urban Habitat (CTBUH) predicted that "Asia will host 70 percent of the world's 20 tallest buildings in 2020." Revisiting this prediction in an article published earlier this year, the organisation noted "Asia, in fact, has 80 percent (16 out of 20) of the world's tallest buildings".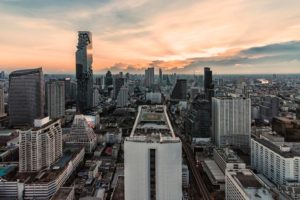 It also predicted that "South and Southeast Asia, including Indonesia, India and Vietnam, seem ready to become one of the next centres of skyscraper construction". Again, this proved to be largely correct.
But when reviewing the CTBUH report, there is one country notably absent: Thailand. On the face of it, it's a curious absence, given Bangkok is one of Southeast Asia's largest urban centres and one of the world's 50 most densely packed cities. Add to this the fact the country has no shortage of ambitious developers keen to deliver spectacular supertall buildings.
These include CP Group who has committed to a huge investment of THB 200 billion between now and 2022 to construct a range of new properties, despite the current climate. While details remain scarce, the company says residential developments in and around Bangkok will be a big focus of the investment and this will inevitably include a number of tall developments.
On the other hand, there are issues that are understandably hampering the development of supertall buildings. One is the ongoing oversupply of residential condominiums, a perennial conversation topic within the Bangkok real estate sector. Reports in February estimated around 100,000 Bangkok apartments were sitting empty, a number that has no doubt increased over the past six months.
And, of course, there is the ongoing coronavirus pandemic. While it's difficult to say how long COVID-19 will supress demand for new construction, one thing we do know is it has changed how people view urban centres. This will have implications for the businesses that traditionally lease or buy space in tall and supertall buildings: hotels, real estate, and retail.
Building a supertall in Bangkok
Beyond the debates around developer ambition or the challenges of market conditions, there are a number of more practical issues Bangkok needs to address to advance in the world of tall buildings.
All of these relate to design and engineering, and while each represents its own challenge none are insurmountable and, in each case, we believe it is a question of 'when' not 'if' Thailand overcomes these hurdles. They can be broadly categorised in five areas:
1 Tall building expertise
2 Materials
3 Logistics
4 Foundations
5 Specialist designs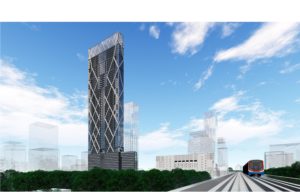 Tall building expertise
The first point on expertise is also the most important: not all engineers are the same. To take on a project as large and complex as a supertall development needs world-class experience. Supertall buildings are never standardised, and each is unique. This means their design cannot simply repeat what has gone before but must provide new solutions to new challenges.
Given Thailand's relative lack of supertall buildings, most local engineers have no experience working on structures over 300 metres tall. So developers must either work with engineering firms outside the country or with companies like Aurecon that have a practice in Thailand and can harness supertall engineering expertise from sister offices elsewhere in the world and combine it with local engineering knowledge.
At Aurecon, we have a world-class pedigree in supertall projects that includes the Shanghai Tower in China, Landmark 81 in Vietnam and the Dubai Creek Tower in the UAE. It means we understand the level of detail and planning required, and the complex analyses and design processes that must be incorporated into supertall developments.
We know how to create new work sequences that have never been performed before and apply them to local projects. This way, it is easy to see how the local base of supertall engineering knowledge will steadily build in Thailand, although the process will take time.
AURECON'S TOP 12 TALL BUILDINGS
In addition to securing relevant expertise for a supertall building, developers should consider how technology is used in engineering and design, and in particular Building Information Modelling (BIM). While this platform enjoys widespread use in Thailand, competency levels vary greatly.
As with other areas of supertall design, a standard application of BIM is not enough for a supertall project, it requires advanced utilisation of BIM, embedding it into all aspects of the design. The good news is this talent does exist in Thailand, developers just need to seek it out.
Materials
Another obstacle to building supertall developments in Thailand is sourcing the right materials. Everyday concrete is not efficient for something at the scale of a supertall building. Ultra-high strength concrete should be used to minimise the dimensions of structural components and maximise the saleable area within the building. While this is available in Thailand, it is only offered from one supplier, limiting both the supply and the competitive advantage multiple suppliers brings.
Ultra-high strength concrete also needs specific aggregates which must be added during the mixing process as well as special formwork into which the wet concrete can be poured to set. Once hardened, it then needs more careful crack control and monitoring than regular concrete, again, making this a specialisation that is still not that widespread in Thailand.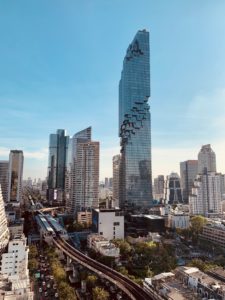 In addition to concrete there are similar limitations around the structural steel used in supertall developments. Some ultra-high strength steel is still not available locally and must be imported, particularly those used in key structural elements, such as outriggers and mega columns. Of course, as more supertall buildings appear in Bangkok, it stands to reason that materials needed to construct them will become more widely available.
Logistics
Building a skyscraper that stretches several hundred metres into the air requires a near continuous supply of concrete, not only for the building itself but for the substantial foundations on which it rests.
Consider, for example, that a 100 m-deep concrete pile used in the foundation of a supertall development may need over 250 cubic metres of concrete placement and soil removal – equivalent to over 50 trucks.
Then consider that there could easily be 100 more piles (or more) on a typical supertall project. Then we have the concrete for the building, the steel, glass, piping, electrics, fixtures, fittings and more as well as several hundred people (at least) moving on and off the project each day.
The reality of traveling in downtown Bangkok – the most likely location for any new supertall development – makes all this a long-term logistical challenge. With its notorious congestion and network of narrow streets, Bangkok suffers more traffic jams than any other city in South East Asia, including notorious metropolises such as Manila and Jakarta according to Uber and BCG.
While not impossible, planning logistics for supertall developments is a major undertaking and part of the process demands considerable resources to ensure the building stays on schedule.
Foundations
Supertall developments require very deep piles set into the ground to support the building. In Bangkok getting strong foundations in place is particularly critical because of the softer soil conditions which represent an ongoing battle for the city.
Using equipment that is available in Thailand, the deepest piles that can be created in Bangkok reach around 100 m underground. However, getting to this depth means using the latest and largest piling machinery and having the specialist knowledge to operate it. While these larger piling rigs are in the equipment fleets of Thai contractors, the scale of the investment needed for such a machine means there are relatively few.
Of course, the flip side to this is that for foundation contractors willing to take on this investment, there are potential future rewards that can be gained from other constructions.
Specialist designs
Developers invariably want to ensure their supertall buildings are striking landmarks, immediately identifiable and synonymous with their city. We are also seeing a trend where supertall developments are constructed in larger areas on the outskirts of cities. This has the added advantage of allowing developers to invest and develop new areas with a striking supertall development, bringing them a wider variety of revenue generating options.
They engage famed architects to create their properties, such as Santiago Calatrava, Ateliers Jean-Nouvel or Gensler to ensure each is unique. Engineers delivering the design on these structures not only require advanced expertise, they should have the experience working with these world-leading architects that deliver them.
Having specialist designs also means supertall buildings need specialist structural and building components. For example, the majority of supertall buildings require 'outriggers' to improve their stiffness, a particularly important design consideration, given how slender these structures tend to be. Outriggers may take the form of a beam that measures the depth of two to three floors.
It is a similar story with the specialist damping devices installed at the top of supertall buildings. These suppress the wind-induced movements of the building providing stability and enhancing human comfort. One of the most popular devices for this is a tuned mass damper, which is not produced locally in Thailand and this alone will add something like THB 150 million to construction costs.
Reaching for the sky
While there clearly needs to be a shift in the local engineering sector for Bangkok to push its supertall ambitions to the next level, it is certainly within our grasp. Most crucially, the right level of engineering expertise is already available in the country through companies such as Aurecon.
The uncertainty around market conditions will no doubt extend into 2021, but the practical roadblocks to making supertall buildings more accessible are easier to overcome. If we transition to having the right equipment, technology and materials locally, then any developer with the courage and ambition to add a supertall building to the Bangkok skyline has the opportunity to truly leave an indelible mark on the city.
And when you consider it remains the world's most popular city, that is an opportunity that many will want to seize, the only question being – when?
About the Author
Dr Praween Chusilp is Practice Leader – Structural at Aurecon's offices in Thailand. He has more than 16 years' experience in the construction of tall buildings, including one of the tallest buildings in Thailand. His other specialisms include precast buildings, factories and petrochemical plants.
In his role at Aurecon, Dr Chusilp works closely with clients to deliver smart engineering solutions, collaborating closely with other Aurecon offices to deliver global expertise to projects in Thailand. He holds a Doctor of Engineering (Structural Engineering) from Nagoya University in Japan and served as a Post-doctoral Fellow at the Disaster Prevention Research Institute at Kyoto University in Japan from 2002 to 2004.
Source: https://www.aurecongroup.com/thinking/thinking-papers/bangkok-tallest-buildings