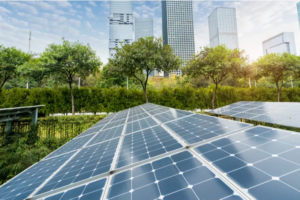 State-owned Electricity of Vietnam to boost clean energy development in Vietnam
State-owned Electricity of Vietnam (EVN) will invest more in clean energy in future to meet the rising demand for power in development. It expects to put into operation around 5,500 MW of electricity from renewables, with 4,000 MW from wind power and 1,500 MW from solar power by 2025 to prevent a shortage of power, especially in northern localities.
The group recently submitted to the government its proposal on ways to encourage the development of renewable energy and its storage systems.
It also sought permission to develop offshore wind power in the northern region to raise electricity supply there and ensure national power security, a news agency reported.
Those proposals are in line with the government's policy on encouraging the development of renewables and delivering on Vietnam's commitment at the Conference of Parties (COP) 26.
According to the power development plan in 2022, EVN can ensure sufficient power supply for the central and southern regions. The northern region may face a shortage at some points of time, particularly during severe heat waves.
The northern region accounts for nearly 50 per cent of the national power demand, and the region's demand is also expected to rise at a rate higher than the national average.
Meanwhile, there are few new generation sources scheduled to be put into operation in the north this year, while electricity transmission from the central and southern regions is constrained by limited capacity of the transmission network.
Finland is ready to provide all possible support, including financial, to Vietnam in energy transition and realising its COP26 commitment.
Source: https://www.fibre2fashion.com/news/textile-news/state-owned-evn-to-boost-clean-energy-development-in-vietnam-281229-newsdetails.htm