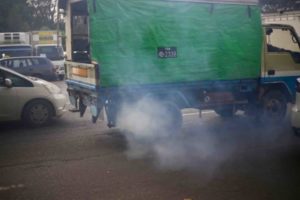 South-East Asia looks to filthy coal instead of solar power
09 September 2019
Sun-kissed Asean continues to generate electricity using filthy coal and its citizens choke on foul air as a consequence.
The United Nations says the rising use of coal in Asian countries is negating international efforts to control climate change since the 2015 Paris climate agreement was signed.
The consistently hot sun across the 10 member states makes it a perfect location to invest in photovoltaic solar energy but coal is too often still used to generate electricity.
The UN named Indonesia, the Philippines and Vietnam as accelerating their move to cheap coal power amid rising demand for power.
An estimated 36 per cent of the world's energy is still produced by coal, although it is the largest contributor to climate change, and responsible for around 46 per cent of global carbon-dioxide emissions.
The Asia-Pacific Climate Week 2019 in Bangkok last week looked at ways to reduce harmful emissions across the region.
The conference came before an international climate summit in New York later this month and December's UN Climate Change Conference (COP25) in Chile. Unfortunately, by picking one of the world's most remote countries, the UN has ensured the event will generate a considerable carbon footprint.
The inability of Asean to coordinate cross-border environmental action draws attention to the limited nature of the bloc.
The far more integrated European Union enforces rigorous climate and pollution targets on its member states. The European Commission, the bloc's executive branch, also prosecutes governments that fall behind in their environmental goals.
Each member state has been made to present an emissions target for 2020 and 2030 along with a policy document about how the goals will be achieved.
Asean has never been capable of organising anything controversial.
The EU has targeted Indonesia and Malaysia for the environmental devastation caused by their palm-oil sectors. Rather than looking to reform the environmentally ruinous process, both Malaysia and Indonesia have responded with nationalist rhetoric and threatened a trade war with Europe.
Meanwhile, Indonesia produces the third-highest greenhouse-gas emissions after China and the US as it continues to burn rainforest to create palm-oil plantations.
Coalitions of business and civil society groups have formed across Asean to push governments to counter the climate crisis and were lobbying at this month's Bangkok event.
Indonesia, Vietnam and the Philippines have lobby groups made up of NGOs, the private sector, academics and other interest groups which invest in low-carbon developments.
Nithi Nesadurai of Climate Action Network in Southeast Asia said: "Southeast Asia has relied on fossil fuels to support its economic growth. Unfortunately, some countries are planning to rely heavily on coal for the future.
"Apart from going against the spirit of the Paris agreement, this strategy will block solutions for energy efficiency and renewable energy and act as a barrier for finance for renewables. This has to change: new coal projects must be halted and financial flows have to be shifted away from coal into renewable energy and low-carbon development."
The 197-nation 2015 Paris Agreement called for limiting global warming to "well under" 2°C and "pursuing efforts" to keep warming to 1.5°C.
The evidence of climate change is all over Asean, from devastating cyclones to Thailand's dry dams.
Jakarta is sinking by around 15cm per year and, by 2050, 95 per cent of north Jakarta is due to be submerged.
Bangkok and Manila are also at risk of submersion amid rising sea levels, UN climate scientists warn.
Individual states are making some progress. Singapore has taken great strides to fill the city-state with foliage.
In 2009, Singapore introduced its Landscaping for Urban Spaces and High-Rises programme, which encouraged developers to provide green roofs and gave financial incentives for those that went beyond the minimum requirements.
Research shows rooftop gardens promote physical activity and psychological wellbeing, reduce air pollution and noise while improving temperature regulation.
GreenID Vietnam and the WWF are working with businesses, civil society organisations, financial services providers and universities. The Million Green Homes programme aims by 2030 to power 1 million houses and buildings across Vietnam with solar panels and install energy-efficient systems.
Asian states must set more ambitious goals to tackle climate change, said Ovais Sarmad of the UN Framework Convention on Climate Change.
"There are certain countries in this region still relying heavily on coal and fossil fuels as sources of energy, and in some areas that is growing," the deputy executive secretary added.
"That's a very, very serious problem because … all those gains that had been made in other parts of the world would be completely negated."
The United Nations climate team said Asian governments must "grasp the many opportunities of climate action and to stave off the worst impacts of climate change, which are becoming increasingly costly for the region".
"Radical, transformative and highly ambitious actions need to happen at all levels," Sarmad added. "We have very little time."
The inability of Asean to coordinate action on environmental issues suggests that individual member states must take the initiative.
Source: https://www.aseaneconomist.com/asean-looks-to-filthy-coal-instead-of-solar-power/