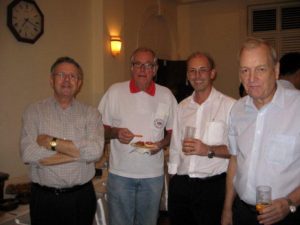 Society of Professional Engineers in Thailand (SPET) Monthly Members Meeting – 21st July, 2016
Thursday, 21st July 2016, 6:30pm
The British Club
Soi 18, Silom Road,
Bangkok
"Metallurgical investigation of failures in gas turbines"
By
Dr Jonathan Sykes – Resident Director of Dr JH Burgoyne & Partners (International) Ltd – Singapore
Failures of components in gas turbines can have catastrophic consequences.
This presentation will provide examples of some of the common causes of failures in gas turbines including fatigue failures, creep and corrosion.
Dr. Jonathan Sykes is the Resident Director of the Singapore Office of Dr JH Burgoyne & Partners (International) Ltd, a firm of consulting scientists and engineers specialising in the forensic investigation of incidents for clients within the legal and insurance sectors.
Jon has 20 years of experience specialising in the investigation of the causes of failure of materials and mechanical equipment, such as corrosion, fracture, embrittlement and degradation of metallic, plastic and ceramic components.
In the course of his work, Jon has conducted investigations into a number of losses involving gas turbines and other power generation equipment, ranging from small, offshore equipment to large power plant items.
Entry fee is Baht 200 for Members of SPET and Baht 400 for all others.
The next SPET event is scheduled on 18th August 2016, given by Ben Hayes of Herrenknecht.
Please enquire at the reception desk, or email chris AT lasanne.com.