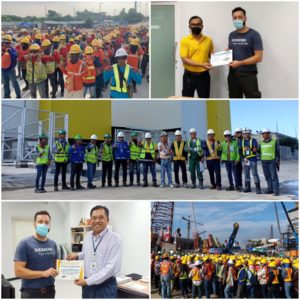 Siemens-Marubeni Consortium achieve 19 Million man-hours of zero LTI at EGAT's South Bangkok Replacement Project Phase 1
The Siemens-Marubeni Consortium recently achieved a remarkable milestone of 19 million man-hours of zero lost time incidents (LTI) at the site of EGAT's South Bangkok Replacement Project Phase 1.
At its peak, up to 3,600 people were working on site simultaneously. More than 13,700 safety inductions for workers were conducted on site throughout the construction and commissioning phase to ensure everyone was fully informed of the safety standards and procedures on site.
Basic safety instructions were repeated until everyone internalized them. The safety messages were then further developed and intensified, building on this basic knowledge. The site team has worked tirelessly to establish and maintain the highest standards possible.
This achievement highlights #zeroharmculture at Siemens – and that the safety of our customers and our people is always our top priority.
Our sincerest thanks to all the teams involved as well as our partners who have contributed to this success!
Source: Siemens Energy