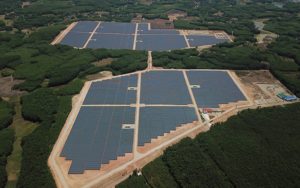 Sharp Energy Solutions to form solar power JV in Vietnam
20 December 2019
Sharp Energy Solutions Corporation (SESJ), part of Sharp Corp, and Vietnam-based NSN Construction and Engineering JSC have agreed to form a joint venture (JV) to construct solar power farms.
As part of the agreement, SESJ will take a 60% stake in renewable energy-related construction firm NSN Energy Solutions JSC in March 2020. The company will be renamed to Sharp NSN Energy Solution JSC, with NSN to own 38% and Gisoko JSC, a NSN affiliate, to hold 2%.
The JV will expand Sharp's engineering, procurement and construction (EPC) business in Vietnam. It will make it possible for Sharp to handle all aspects of solar power park construction and also offer rooftop solar installations, the company said.
Source: https://renewablesnow.com/news/sharp-to-form-solar-power-jv-in-vietnam-681066/