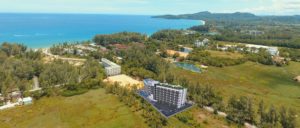 Seventh Sky Launches the Construction of a Luxurious Residential Complex in Phuket, Thailand
The future residents of Seventh Sky Condominium are presented with three types of premium apartments to choose from and an additional option of merging two apartments.
Seventh Sky Condominium is a luxurious residential complex located on the island of Phuket, Thailand. The apartments provided here are classified into three categories that are varying in size, from type A, which is over 33 m2 to a premium class type C condo sizing up to almost 89 m2.
All residents of Seventh Sky Condominium at all times can enjoy one of three swimming pools available, a modern gym and restaurant. On top of that, every condo in the complex is going to have an amazing view of the tropical gardens through the panoramic windows.
It is also worth mentioning that the residence itself, apart from being exquisitely designed to please the eye, has a state of the art technology embedded in it to make life in Seventh Sky Condominium as convenient as possible. Firstly, that includes 24/7 CCTV, sound-proof systems, odor isolation and much more.
The choice of apartments here starts with types A and B, which are both single bedroom, varying in size, with B-type apartments being a bit more spacious. Type C, on the other hand, is a double bedroom apartment suitable for a big family, but the number of such condos in the condominium is very limited.
Moreover, all who wish to buy an apartment have another option of merging two adjacent flats into a single one. In this particular case, the buyer would receive a 10% deduction in price.
Last year the residential complex was also presented by Seventh Sky during the prestigious LPS Shanghai Exhibition 2016. During the same expo, the company had a chance to find potential investors and lay foundation for future partnerships.
The opening of Seventh Sky Condominium is scheduled for March 2019.
About Seventh Sky:
Seventh Sky is an acclaimed real estate development agency based in Thailand. It is currently working on the project of a luxurious condominium located on Bang Tao beach, Phuket. The construction of the residential complex will be over in March 2019. Seventh Sky apartments are already available for sale.
Contact Information
Seventh Sky
Sandra Williams
+66 (0)76 39 0474
Contact
seventhskyphuket.com