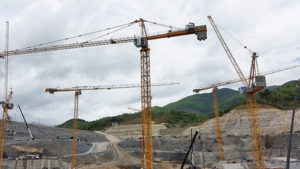 S.B.Siam has supplied 23 tower cranes from Potain's special-application, luffing jib, topless and top-slewing ranges to Thai construction firm CH. Karnchang for the construction of Xayaburi dam in Laos.
The eight-year project, which now enters its second phase, is expected to boost the power supply of Laos and Thailand by 7,400GWh a year.
The 820m long Xayaburi dam will be 150m wide and 35m high. It is situated 100 km from Luang Prabang in Laos and owned by the Xayaburi Power Company.
The Potain tower cranes began arriving at the job site in 2012 and are expected to stay there for another three or four years, as the project builds towards its 2020 activation date.
There are two huge Potain MD 1600 cranes installed that are playing the lead role in the enormous concrete pouring operation. The cranes have been configured with 80m of jib and have a maximum rated capacity of 64t.
Alongside the two MD 1600, there is a mix of 21 other Potain cranes built at the Manitowoc factory in Zhangjiagang, China. The cranes are strategically positioned to provide 3t lifting capacity at every square meter of the jobsite.
11 MC 310K12 have been deployed, with this model having a 12t maximum capacity.  These units are fitted with jib lengths ranging from 50m to 70m and working heights ranging from 50m to 100m.
Four MCT 385 units are also being used, which have a maximum capacity of 14t and have been configured with jib lengths of 75m. These are working at heights  that range from 50m to 125m.
There are also two MC 205B units, which have a maximum capacity of 10 t. They are working with jibs of 50 m and at a height of 35 m.
From the luffing jib range of cranes, there are four of the MCR 225A models, which also have a 14 t maximum capacity. These cranes are fitted with jibs of 55m, while their working heights range from 40m to 100m.
All the MC, MCT and MCR cranes are used for general lifting duties, as well as for pouring Conventional Vibrated Concrete.
Source: http://www.cranestodaymagazine.com/news/sbsiam-supplies-23-potain-cranes-for-xayaburi-dam-construction-4997270