Renewable power supply in Thailand could be affected by reduced water volume of rivers in Laos
Hydropower plants in Laos under pressure
EGAT preparing to set up new floating solar farm with a capacity of 24MW at Ubolratana Dam in Khon Kaen
The renewable power supply in Thailand could be affected by drought as the country imports electricity generated by hydropower from Laos, which has reduced water volume in its rivers, says the Electricity Generating Authority of Thailand (Egat).
If the drought becomes more severe, hydropower plants in Laos will generate less electricity, resulting in reduced imports, said Boonyanit Wongrukmit, governor of Egat.
Egat signed an agreement with Laos to buy 10,500 megawatts of electricity, up from 9,000MW, under a plan to promote greater use of renewable energy.
Among the hydropower plants that sell electricity to Egat are Nam Ngum 2 and Xayaburi.
CK Power Plc, the power generation arm of Thai construction conglomerate Ch Karnchang Plc, earlier issued a report on the impact of El Niño-induced drought on Laos.
The company operates the Nam Ngum 2 hydroelectric plant on the Nam Ngum River, a tributary of the Mekong River, and the Xayaburi plant on the Mekong. Both facilities have reduced water volume, leading to a decline in power sales.
El Niño is a cyclical phenomenon that causes ocean warming in the tropical Pacific, bringing drought to many countries and rainfall and flooding to others.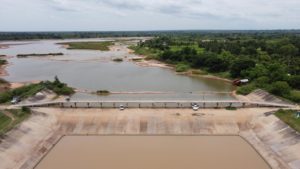 "We are monitoring the drought in the region and preparing measures to ensure an adequate electricity supply for the country," said Mr Boonyanit.
Electricity generated by hydropower plants is part of Thailand's campaign to combat carbon dioxide emissions generated by the use of fossil fuels in the country.
The government announced in 2021 it aims to combat global warming and reach carbon neutrality, a balance between carbon dioxide emissions and absorption, by 2050.
Egat is also increasing its focus on power generation using renewable resources.
The authority announced earlier this year it started operation of its 10th mini-hydropower plant in the northern province of Uttaradit.
The 14MW plant, located in Pha Chuk sub-district, increases the total generation capacity of Egat's mini-hydropower plants to 102MW.
He said earlier Egat plans to push ahead with 15 floating solar farm projects nationwide, with a combined capacity of 2,750MW, over the next 15 years.
The authority is preparing to set up a new floating solar farm with a capacity of 24MW at Ubolratana Dam in Khon Kaen in northeastern Thailand.
Egat's first floating solar farm is at Sirindhorn Dam in Ubon Ratchathani, also in the northeast, with a capacity of 45MW. This solar farm commenced operations in 2021.
Source: https://www.bangkokpost.com/business/general/2629681/drought-limits-electricity-imports