Reaching new heights in Yangon; The Diamond Inya Palace Condominium project, at 33 floors, the tallest residential development in Yangon
High-end condominium projects are becoming more common in Yangon, but even so the project we look at this week stands out.
The Diamond Inya Palace Condominium project, at 33 floors, is the tallest residential development in Yangon and promises to offer facilities to rival luxury hotels.
Developed by Mandalay Golden Wing Holding Limited, the project is located along U Tun Nyein Road on a 2 acre site in Mayangone township.
The condo offers 347 apartments in several layouts and eight penthouses of more than 6000 sq ft.
Among the larger layouts is the 1,938 sq ft, four-bedroom layout with two master bedrooms and two smaller bedrooms.
We can see the dining area as soon as we enter the apartment. Then, there is a living room. on the right of the main door, we can see the kitchen and there is a small area where we can dry clothes. The unit's bedrooms are spacious and feature good ventilation and light thanks to large windows.
Other units in the project feature two-, and three- bedroom floor plans. The project also offers units in a deluxe dual-key layout designed to resemble two units. The second home can be shared with parents or grown-up children without compromising your own privacy. Alternatively, it also doubles up as a home office or as additional rental revenue.
The project has enough parking space for 600 cars and buyers of larger units will receive two parking bays.
The developer says the the 6th and 22nd floors of the condo are fully provided with some of the most varied facilities in Yangon.
These include a swimming pool, gym, sauna, space for yoga, table tennis, and other sports, quiet offices, and halls for events.
Prices for units start from around K700 million (US$458,000) and vary depending on their floors.
Also, near Diamond Inya Palace Condominium are the Junction 8 shopping mall, Parami Hospital, British International School, Inya Lake Hotel, Kaba Aye Pagoda, Gamone Pwint Shopping Mall, Lotte Hotel, and many other famous places.
Mayangone township, where the condo is located, is a key township and also the largest in Yangon Region.
There are also many commercial buildings in the township, making it attractive to those who want to set up a business.
There are many banks, restaurants and commercial buildings in the township which is situated in western district of Yangon Region. The township is quite big and is also features major arteries such as Pyay Road and Kaba Aye Pagoda Road.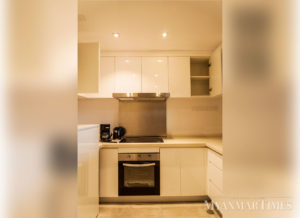 There is a bus stop near the condo.
As there is a traffic light junction on street where Diamond Inya Palace Condo is situated, people who live might face heavy traffic at certain times of the day. However, the traffic can be avoided as there is another entrance yo the condo. Mayangone township is near Yangon International Airport and there is an airport shuttle bus line in the township, making it convenient for those who want to go to the airport.
However, it is a little far from the centre of Yangon and it can take 30 to 60 minutes to reach downtown by car. People interested in buying or renting units can contact JSS Real Estate at 09-7510 01015 or 09-7510 01011. Land prices per square foot assessed by the government along U Tun Nyein Road are K90,000 this year.
Price:    From K700 million
Space:    From 947 sq ft
Location:    No. 2, U Tun Nyein Street, Diamond Inya Palace Condo, Mayangone Township
Source: https://www.mmtimes.com/news/reaching-new-heights-yangon.html